George Wins Lifetime Achievement Award for Risk and Insurance Management
15 December 2022 10:57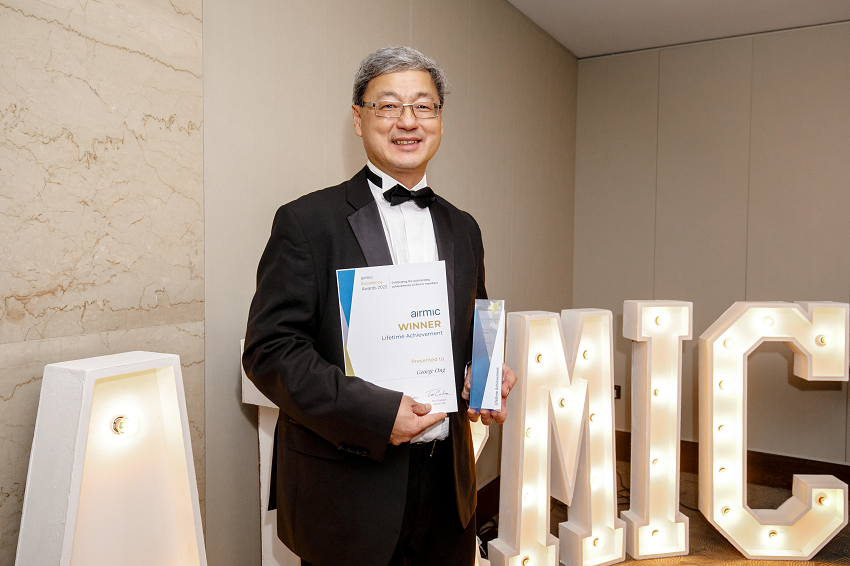 NI Water's Head of Corporate Governance and Chief Risk Officer has been awarded a lifetime achievement award from a leading industry body.
George Ong was recognised by Airmic (The Association of Insurance and Risk Managers in Industry and Commerce), a UK and Ireland-based association representing the community of risk and insurance professionals, for his outstanding and industry leading practices and commitment to risk management.
His risks and resilience initiatives have successfully directed NI Water through challenging risk management situations at corporate and directorate level.
He has also ensured that NI Water is one of the first water companies in the world to have put in place a parametric insurance programme for freezing conditions and a drought cover for lack of rainfall and high temperatures. The 'Freeze/Thaw' and 'Drought' policies are extremely effective in response to increasing weather events with prompt payment to help with emergency response and customers' needs.
Speaking after receiving the award, George said: "I am delighted to be recognised by Airmic, an organisation that represents so many talented risk professionals from the UK and Europe. This award is testament to the work that NI Water has undertaken not just on risk and resilience management, but on partnership solutions, emerging climate risks as well as research, development and innovation."
Recognising the importance of Airmic, George said: "Risk and resilience managers are called upon more than ever to provide 'solutions' and 'assurances' that the combination of risk factors in the connected world we live in today are well managed. We can't do this alone. We need our business partners and the insurance industry to work with us to put in place preventative measures to reduce the impact of adverse incidents and have clear response and recovery solutions in place to respond to new risks as well as have effective controls to reassess improvement plans for further improvement on our resilience. My desire is that our association with risk managers in Airmic will help identify unique threats and develop opportunistic solutions to bring benefits to the people and society we all care for."
George is a guest lecturer at Queens Management School and Ulster University Business School for the Masters programme in 'Governance, Risk and Resilience Management'.
He won the UK 'Insurance Risk Management' award and the FERMA 'Risk Initiative of the Year' award in 2018 and was a 'finalist' in the FERMA 'Risk Manager of the Year' award for 2020.
Ends
Media enquiries to NI Water press office - press.office@niwater.com