Update on pipelaying on coastal path to link new pumping stations – path to reopen early March
14 February 2023 16:55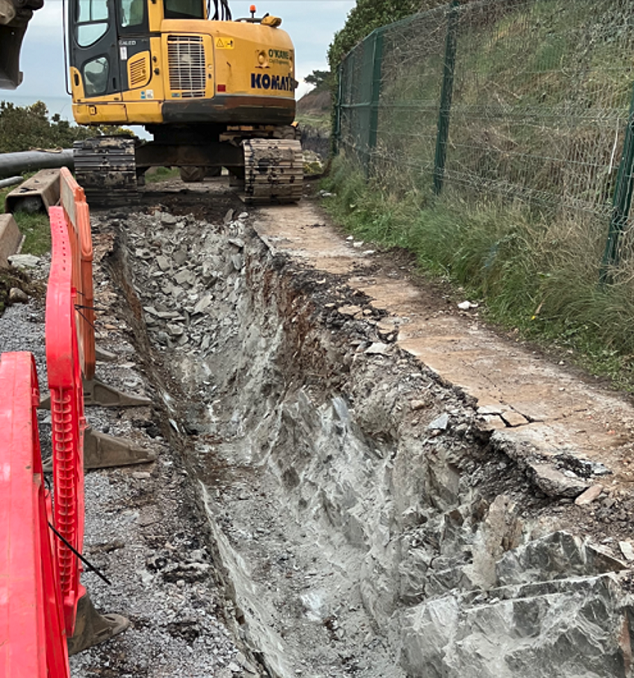 NI Water is pleased to announce that, despite difficult ground conditions, pipelaying on an essential new pipeline between Brompton Road & Stricklands Glen Wastewater Pumping Stations (WwPS) is making good progress and wishes to thank the public for their ongoing support while we work to complete this vital new infrastructure.
Catherine Watkins, Senior Project Manager at NI Water said: "The new pumping main forms the final phase of a £4 million programme of work which has seen the construction of new pumping stations at Brompton Road and Stricklands Glen and is part of a wider multi-million-pound investment to improve water quality along the North Down coast and reduce the risk of out-of-sewer flooding.
"Our contractor BSG is progressing well with the first section of pipelaying between Brompton Road WwPS and the fork in the path towards Downshire Road. Extensive rock has been encountered in this area, however if current progress is maintained, we expect pipelaying to be completed in this section by 24th February.
"Once this first section of pipelaying has been completed, BSG will carry out resurfacing works and will aim to have the path reopened by Saturday 4th March. The path will remain open while the second section of new pumping main - between the fork and Stricklands Glen - is undertaken. This section should be complete within two weeks."
Talking about the remaining works to complete the scheme and bring the £4m project fully into operation, Ms Watkins continued: "Once the new pipeline has been fully installed and tested, some further work will be required within the Stricklands Glen pumping station site to install the new pumps and bring the new pumping main into operation. Any preparatory work that can be progressed for this phase will be completed during the final stages of the pipelaying to minimise the overall programme duration.
"At this stage we expect all work to be completed at the beginning of April, after which stage the contractor can start demobilising from the area. Sowing and planting out of the areas around Brompton Road and Stricklands Glen Wastewater Pumping Stations will be undertaken thereafter in liaison with the council."
Unrelated to the Brompton and Stricklands project and following surveys of the sewerage system in the Carnalea area of Bangor, NI Water will be carrying out improvements to the sewers located adjacent to Carnalea Golf Club.
Work in the Carnalea area is planned to get underway before the end of February and will take approximately six weeks to complete. At some stage during the work, BSG will need to close the coastal path for a period of around 4 hours to facilitate
access. During this short closure, a temporary alternative access for path users will be provided adjacent to the coastal path.
The diversion access will be an unbound surface and therefore we would ask cyclists to kindly dismount during use. Reinstatement of the area at Carnalea will be carried out in liaison with landowners following this essential work.
NI Water and our contractor BSG would like to sincerely thank local residents and the public for their patience while we strive to complete both of these important projects which will deliver environmental improvements such as improved water quality along this stretch of the North Down coast.
The team would also like to highlight that construction sites are dangerous for unauthorised persons, especially children and we would appreciate the cooperation of the public in ensuring that children do not play in or around the site or machinery.
Working areas will have warning signs in place to protect the public from any hazards. The public are advised to stay out of these working areas for their own safety. Please be aware that vehicles may be travelling along the path during this work, and we would ask the public to remain vigilant at all times and keep a watchful eye on children and pets.
ENDS
For further information and media enquiries please contact: press.office@niwater.com
Beware of Bogus Callers – if you are concerned about the identity of someone at your door, you can call the PSNI non-emergency number '101' where you will have the option of a 'Quickcheck' to confirm the caller is from the utility they say they are.
Do not let children go near work sites or equipment, this can be extremely dangerous.
Information on water supply issues affecting your property are also available 24/7 simply by logging onto http://www.niwater.com/current-service-updates/