NI Water Education Team charging ahead with electric van!
21 February 2023 16:37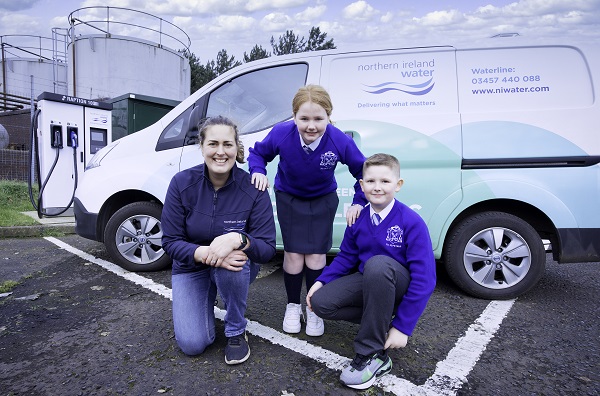 NI Water's education team have recently added a new electric van to their fleet of vehicles which also includes the famous Waterbus. The team currently visit hundreds of schools each year, covering thousands of miles, with the message that our environment and water must be protected.
Anna Killen, NI Water's Education Officer explained why she's delighted to be in the EV driving seat: "We are excited to have taken delivery of this van to add to our education fleet. We love driving the van to schools, it helps us to put into practice our message of protecting the environment, by using this environmentally friendly van. Everyone doing a little bit can make a real difference in tackling climate change."
NI Water has four electric vehicles (EVs) in service and installed six chargers in four of its sites as part of a pilot to embrace new technologies in a continued effort to lower its carbon footprint. A further 8 EVs and 18 charging locations are planned by Summer 2023.
It is hoped that by 2026/2027, around 200 of NI Water's current 600 Internal Combustion Engine (ICE) vans will be replaced with alternative fuel vehicles.
Rapid charging sites are situated in Pennyburn, the North Coast, Tullygarley and in the Greater Belfast area, but moving forward, NI Water hopes to have 55 dedicated charging locations across the province – all within 20 minutes' drive from each other using major arterial routes. These will be supported by access to public charging stations.
NI Water is committed to curbing climate change and improving carbon reduction, with the intent of being fully carbon neutral by 2050.
ENDS