NI Water Wet Wipe Monster is 'Flushing Out' the wet wipes!
24 March 2023 16:29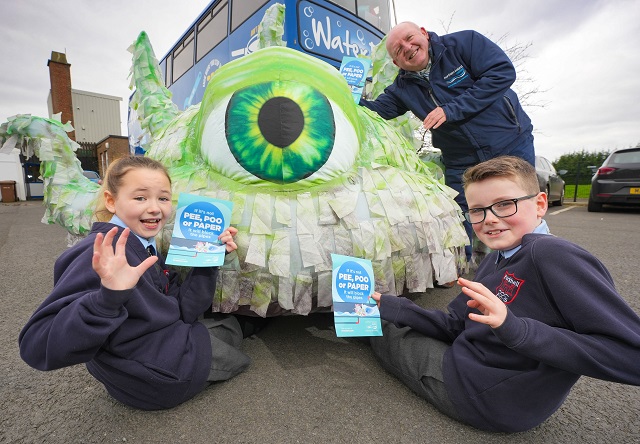 NI Water is marching into Spring by taking on blockages and 'flushing' out the worst monsters in Northern Ireland- blocked sewers.
NI Water's Head of Environmental Regulation, Angela Halpenny explains, "We are hoping our Wet Wipe Monster will help us spring clean our sewers and 'flush' out the worst offenders in a bid to reduce blockages.
"The main enemy of sewers is the build-up of baby wipes, cotton buds and sanitary products. These form together into a ball of 'rags' causing blockages and out of sewer flooding. The Wet Wipe Monster message is simple, 'only flush the 3, Paper, Poo and Pee'!
Angela concludes, "We have all seen the awful effects of an overflowing manhole in the street or worse, an overflowing toilet in a home. In the last ten years, we have spent over £1.5 billion investing in water and wastewater infrastructure, but no amount of investment will completely stop blocked pipes if people continue to flush wipes, sanitary items and cotton buds down the toilet."
If you don't want the 'sewage scaries', check out the bathroom checklist of 'never flush' items below:
• all wipes (baby, personal cleansing, toilet and household cleaning)
• sanitary items (sanitary towels, tampons, liners, applicators and backing strips
• cotton wool, cotton buds, disposable nappies and nappy liners
• condoms, incontinence pads, colostomy bags, used bandages and contact lenses
According to research carried out by Water UK, 93% of the material causing sewer blockages was made up of wipes - including a high proportion of baby wipes - which are not designed to be flushed. Less than 1% of the domestic waste in the blockages was identified as made up of products which are designed to be flushed, such as toilet paper.*
www.niwater.com/bag-it-and-bin-it/ for further information.
ENDS
* www.water.org.uk/news-water-uk/latest-news/new-proof-flushing-wipes-major-cause-sewer-blockages
For further information please email press.office@niwater.com