NI Water volunteers aim to 'bee' amazing
21 April 2023 16:30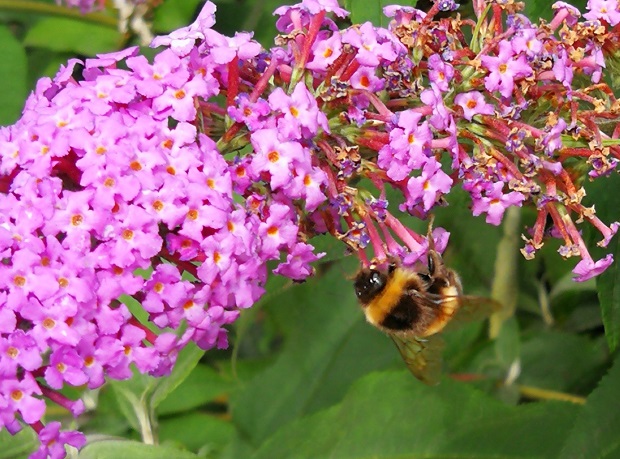 NI Water staff are buzzing to continue its work as partner the All-Ireland Pollinator Plan (AIPP) for a second year, which aims to protect and improve habitats for pollinators on the island of Ireland.
The news comes after a hugely successful year last year when NI Water staff participated in a bee monitoring initiative, resulting in 26 NI Water sites logged onto the AIPP website.
From April to September 2023, NI Water volunteer recorders will continue to map further sites for the AIPP and will carry out a Flower-Insect Timed Count (FIT Count). The FIT Count will involve NI Water staff watching a 50cm by 50cm patch of flowers for 10 minutes and recording the broad insect groups that visit, including distinctive bees. They will then input this information into the FIT Count app, which is a citizen science project, to help track changes in wild pollinators and assess trends.
NI Water Catchment Liaison Officer Rebecca Allen explained: "Pollinators play a vital role in plant reproduction, making them fundamental to supporting healthy ecosystems and in turn improving water quality.
"As the second biggest landowner in Northern Ireland, our pollinator friendly land, which includes some of Northern Ireland's very best open fields, meadows, bog lands and reservoirs, attracts many of Ireland's most important pollinators including bees.
"We greatly recognise the importance these insects play in conservation and helping us to protect and enhance our soil and water resources.
"We are also highly aware that by increasing our environmental stewardship across our assets we can create a great environment for pollinator-friendly vegetation to thrive.
"Our volunteer recorders are proud to do their part and get involved to support pollinator populations. It's also a lovely way to take 10 minutes to yourself and connect with nature, and to know that you are helping collect really valuable information for the National Biodiversity Data Centre."
For further information on AIPP and how to get involved please visit pollinators.ie
ENDS
Notes to editors
About AIPP
AIPP is a framework bringing together different sectors across the island of Ireland to create a landscape where pollinators can survive and thrive. It is implemented by the National Biodiversity Data Centre. Further information is available at www.pollinators.ie
About SCaMP NI
NI Water's Sustainable Catchment Area Management Practice Northern Ireland (SCaMP NI) aims to improve the quality and reliability of the water through sustainable catchment-based solutions that focus on protecting and enhancing the natural environment. Further information about SCaMP NI is available at: www.niwater.com/scamp-ni
All media enquiries to press.office@niwater.com