NI Water graduate, Ashley Johnston, wins 2023 CIWEM Competition
25 April 2023 11:39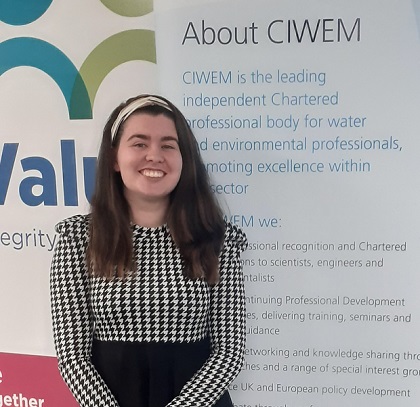 An NI Water employee has won the 2023 CIWEM New Members' Paper Competition. Ashley Johnston was announced as the winner for her presentation on 'Finding Solutions for Belfast Lough's Shellfish Water Protected Area'. Ashley wins £250 and joins a select list of early career professionals to have won the competition.
Each year the Chartered Institution of Water and Environmental Management (CIWEM) NI Branch holds a competition for new student and graduate level members and CIWEM members with less than five years professional experience. The competition involved entry of a technical paper based on the theme of 'Planning for Recovery, Growth and the Environment'.
Ashley was delighted to win, explaining why she choose this topic:
"I was honoured to win this award for my paper. I chose the topic as it links into the work I am currently involved in for the Environmental Outcomes team as part of the Living With Water Programme. I really enjoy the work as it uses environmental modelling to try and find the best solutions for the environmental need that we are investigating."
The Living With Water Programme seeks to revolutionise the way drainage and wastewater is managed in Northern Ireland by promoting greener catchment based solutions, such as sustainable drainage systems and river floodplain restoration works alongside the more conventional hard-engineered infrastructure, such as bigger pipes or higher flood defences.
Ashley is looking forward to continuing her research and career with NI Water.
Ends
For further information please contact press.office@niwater.com