NI Water 1 Million Trees Scheme hits 220,000 milestone
01 June 2023 14:24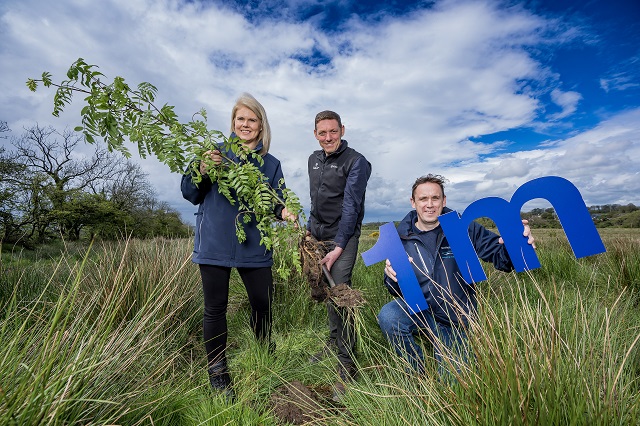 (L-R) Sara Venning, CEO NI Water; Ian McCurley, Director of the Woodland Trust Northern Ireland and Michael Bell, Project Support Officer, NI Water at NI Water's Stoneyford site.
NI Water has announced it is almost one quarter of the way towards its target of planting one million trees across 500 hectares of its land by 2030.
The utility company has hailed this significant milestone by planting approximately 70,010 trees plus 17,000 of natural regeneration across 30 hectares at its site in Annalong situated at the foot of the Mourne Mountains in County Down. In addition, circa 37,750 trees plus 50,000 of natural regeneration across 18 hectares of land at Stoneyford near NI Water's reservoir in County Antrim.
It follows on from 49,700 trees being successfully planted between November 2020 and June 2022 at NI Water's Dunore Water Treatment Works on the shores of Lough Neagh in County Antrim and on land bordering NI Water's Fofanny Dam and water treatment works outside Hilltown in County Down. All trees are native species and most are deciduous broadleaves.
The scheme is part of NI Water's wider plans to help tackle climate change and create a more sustainable future for Northern Ireland. NI Water will work in partnership with the Woodland Trust Northern Ireland to help deliver the planting project as well as overseeing the planning and managing contractors. The Forestry Service are supporting the project.
Alistair Jinks, Director of Business Services said, "As the second biggest landowner in Northern Ireland, we want to deliver a large-scale planting programme of one million trees. Working in partnership with the Woodland Trust Northern Ireland and the Forestry Service, we are well on our way to regreening our land with a diverse range of native trees to encourage our flowers and fauna to flourish.
"This initiative is about much more than just planting trees and offsetting carbon from our electricity consumption. It is about helping to improve water quality, prevent flooding, addressing air quality, providing safe habitats for wildlife and enhancing our local landscape one tree at a time.
"At NI Water, we have ambitious plans to transition to a net zero business and our drive to plant the right trees in the right places is helping to make a visible difference in our fight against climate change. With 224,460 trees planted so far, we are almost a quarter of the way there and we believe we have an important role to play in helping to build the green economy and restore biodiversity."
Ian McCurley, Director of the Woodland Trust Northern Ireland commented: "One of our main objectives is to create new native woodlands and in Northern Ireland this is urgent considering we live in the least wooded area in Europe with just under 9% tree cover. Thanks to our partnership with NI Water, we now have access to large areas of land within their care, and this is a huge opportunity for us to increase tree cover here."
Ends
Media enquiries to the NI Water Press Office via email to press.office@niwater.com
For further information please visit: www.niwater.com/climatechange
Follow The Woodland Trust Northern Ireland on Facebook #create
Link to Regreening Programme video here: https://www.youtube.com/watch?v=9f61W6NsMpI
Notes to editors
NI Water is the second biggest landowner in Northern Ireland, after the Forestry Service, owning around 11,000 hectares of land. This is made up of 990 hectares of water, 1210 hectares of forest, 1540 hectares of peat bogs and 7260 hectares is agriculture.
NI Water produces c.90,000 tonnes of operational CO2 per year in the treatment of water and wastewater.
Pre 2020, NI Water planted over 150,000 trees in 24 drinking water catchments in Counties Antrim and Armagh.
In November 2020, NI Water pledged to plant 1 million trees on over 500 hectares of land by 2030 as part of its Regreening Programme in partnership with the Woodland Trust and the Forestry Service.
Phase 1 of tree-planting began in November 2020, and continued until March 2021, with approximately 40,000 trees planted at NI Water sites at Dunore in Co. Antrim and Fofanny in Co. Down (Dunore, 26,550).
In 2022, more trees were planted at Fofanny in the Mournes totalling 23,150.