Cullybackey residents urged to 'Bin Wipes'
08 June 2023 16:39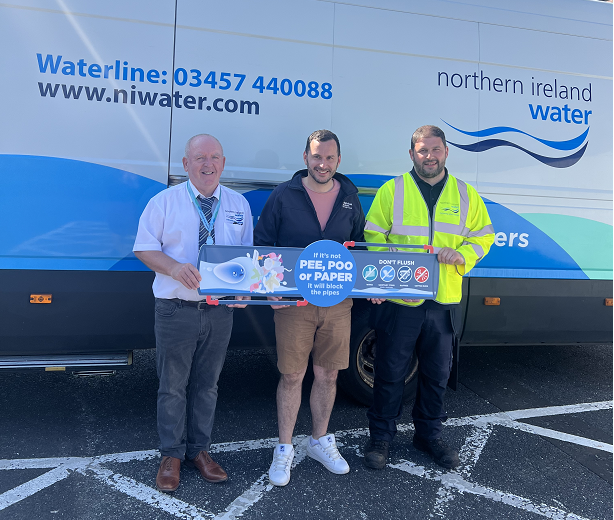 Photo Caption: Brian Donaghy, NI Water Customer Field Manager North, Councillor Timothy Gaston and Michael Holmes, NI Water Networks Sewerage Technician.
NI Water is calling on residents in Cullybackey to bin wipes in a bid to prevent blockages in the sewage system and to minimise the impact of waste on the environment.
It comes after NI Water contractors and staff attended the Tobar Park area in the town to clear a blockage caused by inappropriate items in the sewer.
The team worked to locate and clear the blockage which was caused by a build-up of wipes. A full clean-up and disinfection of the area was also undertaken.
Brian Donaghy, Customer Field Manager, from NI Water Wastewater Networks, explained the dangers of flushing inappropriate items down the toilet: "These blockages and subsequent sewage spills could have been prevented. NI Water would like to ask for the public's assistance by not placing inappropriate items in the toilet, down a drain or into the sewers. Wastewater Treatment Works and sewerage systems are not designed to deal with items such as cotton buds, nappies, sanitary items and wipes which often cause major blockages or end up on our beaches.
"This is also harmful to wildlife and the environment. Whilst NI Water has a responsibility for the sewerage system, everyone in Northern Ireland can help protect the beaches and environment. The advice is simple - Bin it, don't flush it."
Councillor Timothy Gaston said "Recently I received a call from a lady in Tobar Park to report raw sewerage had flooded her back yard, upon investigation the sole cause of the blockage was baby wipes being put down the toilet of a nearby property instead of them being put in the bin.
"I am asking people to be mindful of their neighbours before they flush inappropriate items down the toilet, if it could flood your yard, would you flush it or bin it?
"Please be mindful of others and bin anything that shouldn't be put down the toilet. I would like to thank NI Water for acting quickly to clear the sewerage without trace."
A recent survey by Water UK shows that 75 per cent of drain blockages are caused by people flushing wet wipes down the loo.
Around 90 per cent of wet wipes contain some sort of plastic and, unlike toilet paper, don't break down in our sewers. This is a costly issue that affects every region across the UK and it is also a leading cause of fatbergs and river and sea pollution.
Every year the UK spends around £100 million clearing an estimated 300,000 fatbergs.
Items which should NOT be flushed include:
• Nappies and baby wipes
• Cotton buds
• Sanitary towels and tampons
• Panty liners
• Condoms
• Razor Blades
ENDS
All media enquiries to press.office@niwater.com