Have you got the Bottle?
16 June 2023 10:09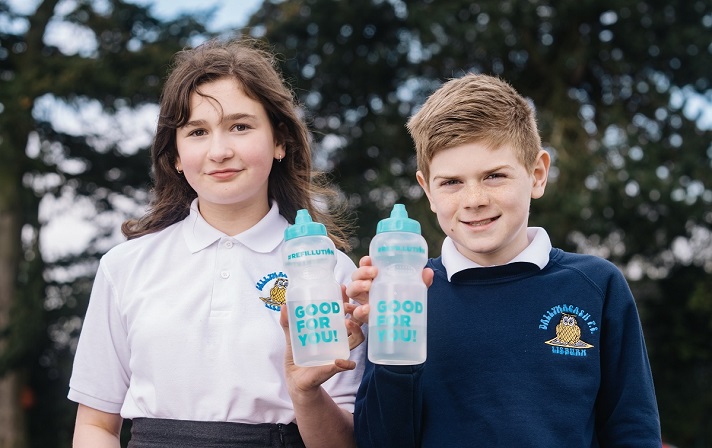 NI Water's campaign 'Join the Refillution' is celebrating its 4th anniversary of combatting single use plastic pollution and the impacts that different varieties of single-use plastics have on our environment and marine life. Since its launch in May 2019, the campaign has been embraced by our local councils with some installing refill stations and encouraging hundreds of local businesses across their areas to support this.
Angela Halpenny, NI Water's Head of Environmental Regulation comments,
"On this, 'World Refill Day', we are encouraging everyone to join NI Water's 'Refillution' campaign, to stop buying single use plastic bottles and instead refill a reusable bottle with tap water. The water industry has a strong focus on the environment and NI Water is committed to tackling the problems caused by plastic bottles which block up our drains and pollute our rivers and seas. By switching to a reusable bottle, we can really make a positive contribution together to help reduce plastic waste and protect nature."
Since the 'Refillution' campaign was launched, schools across Northern Ireland have shown great enthusiasm in supporting the fight against single use plastics. Thousands of primary and secondary school pupils have changed habits, taking NI Water's 'Plastic Promise Pledge' to: always Refill from the tap; always use a reusable bottle; and to carry a reusable bottle with you.
To date, over 250 primary and secondary schools alongside numerous sports clubs and community groups have signed up to this initiative, promising to reduce the number of single use plastic water bottles and encouraging refilling a reusable bottle with tap water. The success of Refillution has exceeded all expectations, with NI Water having distributed over 150,000 reusable water bottles across the country to help prevent plastic pollution.
If your school or group would like to join the Refillution email education@niwater.com
If you are a business and would like to support the Refillution campaign, contact your local council to register your interest. For more information, visit http://www.niwater.com/refillution-join/
Get involved and follow us on social media @JoinRefillution @niwnews.
For more details visit https://www.niwater.com/refillution/
ENDS
For further information please contact NI Water press office press.office@niwater.com
Notes to Editors
World Refill Day 16th June is a global day of action to prevent plastic pollution and help people live with less waste