NI Water creates celebratory ceramic with local schools for centenary year at Silent Valley
06 July 2023 11:12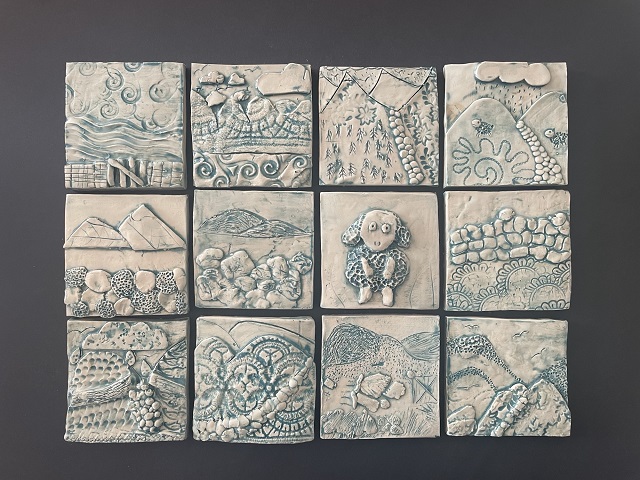 NI Water is celebrating 100 years from 1923 since the lifting of the first sod at Silent Valley to create the reservoir to supply water for Belfast.
To mark the historic milestone, NI Water has been working with 15 secondary schools local to the Silent Valley, to be part of a special commemorative ceramics display.
The "Mourne Water Gives Life" themed initiative offered an opportunity for the schools' Art classes to take part in designing and producing ceramic tiles and to work alongside ceramicists Trevor and Ellen Woods, the father and daughter team from Mount Ida Pottery in Banbridge.
A total of 475 tiles will form a ceramic to be displayed in the Silent Valley Park.
Participating schools received a water butt for taking part in the project.
Jane Jackson, NI Water Project Support Officer, said: "We are delighted to create this artistic display with the help of students local to Silent Valley. This piece will not only be a part of the future history of Silent Valley but encouraged schools to put their mark on a tile with the theme 'Mourne Water Gives Life.' Stage 1, is now complete and we can't wait to see the final reveal."
The collaborative ceramic will be unveiled on 10th October at a celebration event to mark the anniversary at Silent Valley with representatives from each school invited.
ENDS
Notes to the Editor
Silent Valley:
Silent Valley Mountain Park is just over 10 minutes drive from Newcastle.
The biggest reservoir in Northern Ireland located in the Mourne Mountains near Kilkeel, County Down, holding over 13,000 million litres of water.
To supply Belfast and surrounding areas with fresh drinking water supplying 120 million litres of water each day.
Enjoy the peace and solitude of this mountain area with its unique unspoilt landscapes and varied wildlife.
The reservoir grounds are open daily from 10am until 6pm (April -Oct) and 10am to 4pm (Nov-March).
Current Visitor Facilities:
i. Information Centre telling the history of features at the site.
ii. Original Watertown House grade B listed building relocated and restored by funding from the Heritage Lottery Fund via Mourne Heritage Trust. Kindly donated by the Haugh family and dates back to 1923. It has been fitted out to the style of its time featuring artefacts from the 1920/1930s to give visitors a taste of what life was like for the dam builders of the Silent Valley.
iii. Playground with sturdy outdoor natural play features.
iv. Picnic tables available at various locations throughout the park.
v. Six signposted trails of varying degrees of difficulties and lengths for a diversity of users Follow the Heritage Trail with its points of interest and pre-downloadable podcasts.
vi. Step back in time and enjoy the rich heritage of the Silent Valley with an exciting augmented reality app.
vii.
Enjoy a relaxing coffee in the café open 7 days a week 10am until 5pm (March-Sept) 10am until 4pm (Oct- March).