Sewer Investigation Work gets Underway – Shore Road, Belfast
28 July 2023 13:45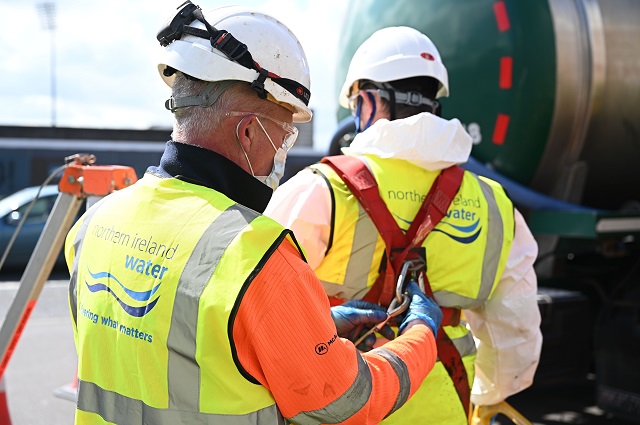 NI Water will commence essential sewer investigation work at the end of July in the Shore Road area between Skegoneill Street and Fortwilliam Park, Belfast. This work will involve jetting/cleaning works and CCTV investigations on the local sewerage system.
The work, which will be undertaken from existing manholes, is required to assess the condition of the sewerage infrastructure and assess if any repairs are required to reduce the likelihood of sewer collapses in the future. The majority of work has been scheduled for the summer months in a bid to minimise disruption to businesses, residents and road users.
Work is scheduled to get underway on Monday 31st July and will be carried out in phases until early/mid-September. Traffic and pedestrian management will be implemented to allow the work to be carried out as safely as possible. Details of the phases of work and estimated dates/timescales and associated traffic management are as follows:-
Phase 1 (31st July - 7th August): Between Skegoneill Street and York Park (south). This section of work will take place from manholes located just off the Shore Road in the layby/car park between Skegoneill Street & Keadyville Avenue. Barriers will be in place around any manhole/working area. Work will progress northwards to manholes located at the junctions of Keadyville Avenue, St. Aubyn Street & St. Vincent Street. To facilitate this section of work a lane closure will be in place between 09.30 and 16.30 daily. Two-way traffic on the Shore Road (both city bound and country bound lanes) will be maintained but may be subject to delays.
Phase 2 (7th August – 27th August): Between York Park (south) and York Park (north). This section is scheduled to be undertaken at night between 19:00 and 06:00 and will require two-way traffic to be controlled via temporary traffic lights. Where a manhole is located at the junction of a side street, the street will be closed to through traffic for a short period of time, however local access for residents will be maintained.
Phase 3 – (18th August – 18th September): Between York Park (north) and Oakmount Drive. This work is scheduled to be completed at night between 23:00 and 06:00 daily. There will be a road closure in place city bound on the Shore Road from Oakmount Drive, with traffic diverted via Fortwilliam Park, Antrim Road and Limestone Road. Country bound traffic will remain unaffected.
In order to access a manhole at the junction with York Park safely, York Park North will be closed for a short period of time to through traffic.
Access for residents and businesses will be maintained at all times and construction dates may be subject to change depending on progress. Traffic management and signage will be in place.
NI Water and our contractor Dawson WAM appreciate that this work is disruptive and would like to thank the public for their patience as we complete this essential investigation work.
The team would also like to take this opportunity to highlight that construction sites are dangerous areas for unauthorised persons, especially children. Working areas will have warning signs and traffic control in place to protect the public from any danger.
Ends
For further information, please email press.office@niwater.com