Ballygomartin 'pumping' out energy savings for NI Water
21 September 2023 10:51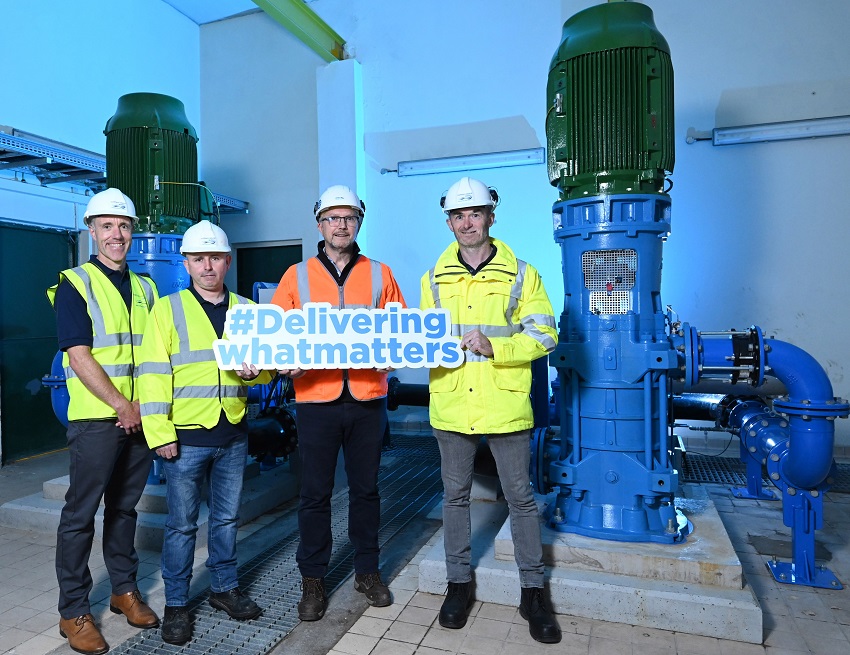 New, more efficient pumps, recently installed in Ballygomartin Water Pumping Station (WPS) are paving the way for energy savings and lower costs for NI Water.
Ballygomartin WPS is one of sixteen sites where pumping systems have been upgraded as a way of reducing NI Water's energy usage and operational costs. The site pumps approx. 2.5 million litres of water every day to Whiterock upper service reservoir which serves c.4,500 domestic and c.160 non-domestic customers. The new pumps are expected to reduce energy costs by c.£28k (>142,000 kilowatt hours (kWh)).
Colin Murtagh, Energy Reduce Use Programme Manager at NI Water, said: "The water industry is very energy intensive requiring large amounts of power to treat and dispatch c.605 million litres of water per day to our customers in Northern Ireland. As the largest user of electricity in Northern Ireland, we've set ambitious targets to achieve net zero for the energy we use by 2030.
"We have identified key water pumping sites where energy savings can be delivered by reducing the energy used to pump water to our customers. We've recently completed the first phase of the pump station upgrade project at Ballygomartin Water Pumping Station where we've installed two new pumps. This has been very successful with c.30-35% reduction in site energy usage and it is contributing to our sustainability goals without impacting service quality for our customers. In terms of our pump optimisation work, we are currently progressing work at 16 sites, with £4m invested to deliver annual kWh reduction of 4.7million kWh (c.£950k/annum). This would save enough electricity to power c.1,600 domestic properties in Northern Ireland annually."
Brian Conway, Consultant at Pumps and Systems Ltd commented, "NI Water have made significant investment in this work programme and we are now seeing immediate benefits as the first pumping system upgrades come on line.
"It was agreed from the outset of this programme that we install 'best-in-class' assets to ensure resilience and long-term performance improvements, which has proved to be key to delivering good return on the investment. Commissioning audits of the first 3 systems have confirmed we are delivering performance exactly as predicted and within original budget with a payback of between 6 months to less than 5 years."
Ends
Caption for photo:
Pictured left to right: Colin Murtagh, Energy Reduce Use Programme Manager, NI Water; Gary Hughes, Field Manager, Networks Distribution, NI Water; Brian Conway, Consultant at Pumps and Systems Ltd; Eamon Tennyson, Project Manager NI Water.
Notes to editors:
Figures are based on average domestic annual consumption of 3,000 kwh of electricity.
In the PC21 period to date, 16 Pump Replacement Business Cases have been approved, at a cost of c.£4m, with projected energy benefits of 4.7million kWh/annum (c.£950k (between 6 months to < 5 year RoI)).
Of the 16 business cases approved, NI Water has completed seven sites; two sites are underway, and seven sites will be completed in the months ahead.
Link to Ballygomartin pump optimisation short video here: https://www.youtube.com/watch?v=ldWA57N4k6c
Link to overview of NI Water's pump improvement programme video here: https://www.youtube.com/watch?v=_IZM0N7SijE
Media enquiries to the NI Water Press Office via email to press.office@niwater.com
For further information please visit: www.niwater.com/climatechange