Kennedy goes back to school with NI Waterbus at St Joseph's Primary Newry
30 April 2013 10:05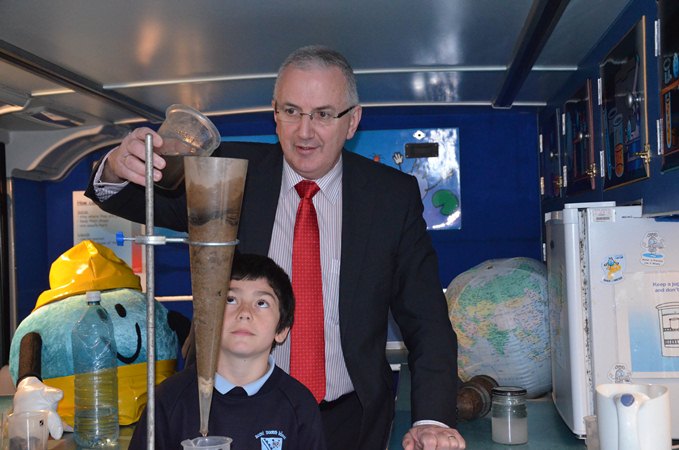 Regional Development Minister Danny Kennedy joined schoolchildren on the NI Waterbus to explain the vital role water plays the lives of everyone in Northern Ireland.
Pupils from St Joseph's primary school in Bessbrook, Newry were introduced to H20, a water drop figure and mascot for the programme to help them learn about water and to understand the importance of water conservation. The children also learnt what should and should not be put down the toilet through a 'bag it and bin it' activity, what NI Water does to clean the water and how sewage is treated.
During the visit to the Waterbus, Minister Kennedy said: "The work of the Waterbus has been a huge success with schools across Northern Ireland. Since it first took to the road the Waterbus has visited over 400 schools and met with 22,000 children providing them and their teachers with a much better understanding of the vital role water plays in all our lives.
''The Waterbus is a fun and interactive way for children to learn about the water cycle, why water is essential for good health and how they can help to conserve this precious resource."
NI Water's Environmental Education Manager, Jane Jackson said: "The Waterbus is very popular with schools and is booked up until 2015! We are delighted with requests from schools to return year on year as it highlights the value of the programme to today's pupils and our future generation of water users. We are of course particularly delighted to welcome the Minister and appreciate the support he and the Department have given us in maintaining this highly effective educational tool.
"Our education programme is delivered by experienced Education Officers and is tailored to the NI school curriculum. The programme is aimed at Key Stage 2 and designed to complement a key element of the Northern Ireland Primary Curriculum - the 'World Around Us'."
A teachers' learning pack, with further classroom activities is available to download from http://www.niwater.com/education. More information about 'H2O and the Wonderful World of Water' can be found at http://www.niwater.com/education