NI Water Exceeds Watermains Target
09 May 2013 14:46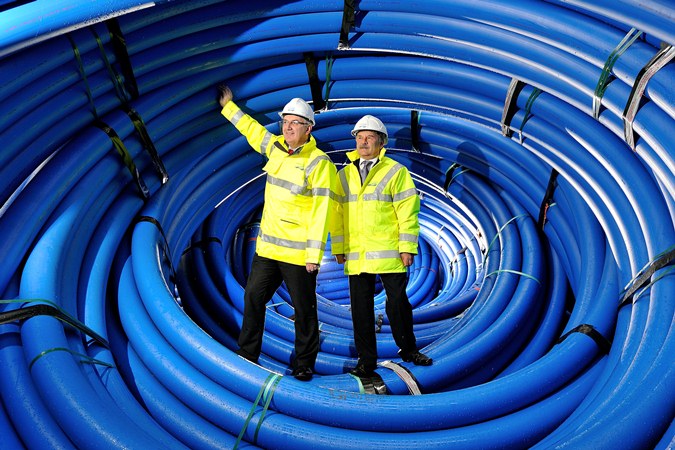 NI Water has successfully reached the 1000km landmark on its ongoing £90 million Water Mains Improvement Programme, exceeding the target set by over 100km.
This project has involved replacing watermains across Northern Ireland with more modern, durable pipes, and in just under three years it has put in place pipes which would stretch from Belfast to Luxembourg!
The project will dramatically improve the quality, reliability and security of the water supply across Northern Ireland, while also reducing leakage. In addition, the improvements to the existing infrastructure will assist in accommodating an increase in housing or other development.
Regional Development Minister Danny Kennedy MLA said:
"I welcome the news that this ambitious watermains target has been exceeded. Customers throughout Northern Ireland will undoubtedly benefit from the improved drinking water quality, reliability and security of their water supply, as well as the environmental benefits, such as reducing leakage.
"The 1000 kilometres mark is an important landmark, and proves that great progress has been made in improving the watermain infrastructure throughout Northern Ireland. I look forward to seeing continued progress on this scheme for the next three year period."
Trevor Haslett, NI Water Chief Executive added:
"I am delighted with the progress the team has made on our watermains framework, exceeding our target in replacing new watermains across the province. I would like to take this opportunity to thank all the staff involved in getting us to this stage of the project.
"The scale of the water mains project has required extensive work on local roads. However, where possible, we used state of the art low-dig technology which enabled us to lay many of the mains without the need to open large trenches. I would like to thank householders, businesses and road users for their continued patience and support. Hopefully, the local communities will enjoy the benefits of this work for many years to come.
"We are looking forward to continuing to work with our two teams of specialist local contractors: Dunmurry based Farrans Construction and Belfast based Lagan Construction, and welcome the opportunity to work with other local companies in the supply chain."
The second phase of work will take place from April 2013 – April 2015, and the target for this period is to lay approximately 445km of new Watermains. The majority of the work under this phase will be focused around South Tyrone, Fermanagh, Counties Down and Antrim.