NI Water Volunteers lend a hand at Arvalee School
16 May 2013 16:39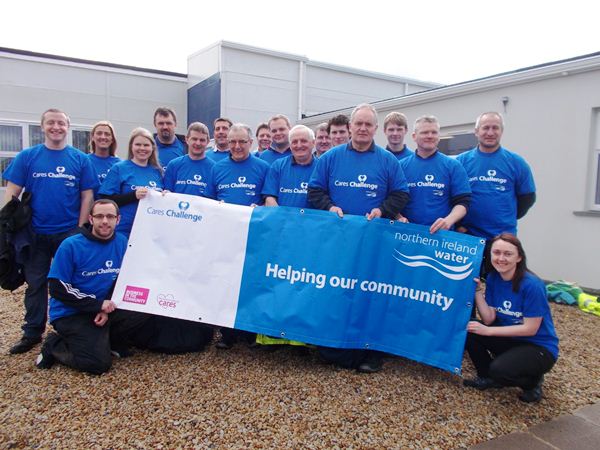 Volunteers from NI Water took up a Cares Challenge and dedicated a day of their time helping to restore gardens and outdoor areas at a school in Omagh.
Eighteen members of staff from across NI Water took part in the initiative last month, with the objective to have fun and make a difference at Arvalee School and Resource Centre, which had been badly damaged by a fire last year. The NI Water volunteers spent the day removing fencing and grass to extend the entrance to the school, clearing paths, weeding, tidying up flower beds and replanting.
The initiative, in partnership with Business in the Community's NI Cares Programme, is part of NI Water's Cares Challenge Volunteering Programme – a programme of activity planned to help various groups throughout Northern Ireland and led by a member of NI Water's Executive Committee/Board with colleagues joining them from around the business.
Since the fire last September, more than 100 Arvalee pupils have had to travel to alternative schools in Strabane and Castlederg to access specialist resources. For some children, this has meant an 80-mile round trip each day from Omagh, adding hours to their school day. The pupils, who have moderate to severe learning difficulties, range in age from three to 19 years.
Jonathan Gray, Principal, Arvalee School and Resource Centre, said:
"On behalf of Arvalee School and Resource Centre, I would like to say thank you to all the volunteers from NI Water who came to give a day's work and helped us with our gardening activities.
"They worked very hard all day and have made a real difference to our gardens and pathways which has made the school more accessible and appealing for the children, staff and visitors."