First-time Willows Technology for Northern Ireland
28 May 2013 12:51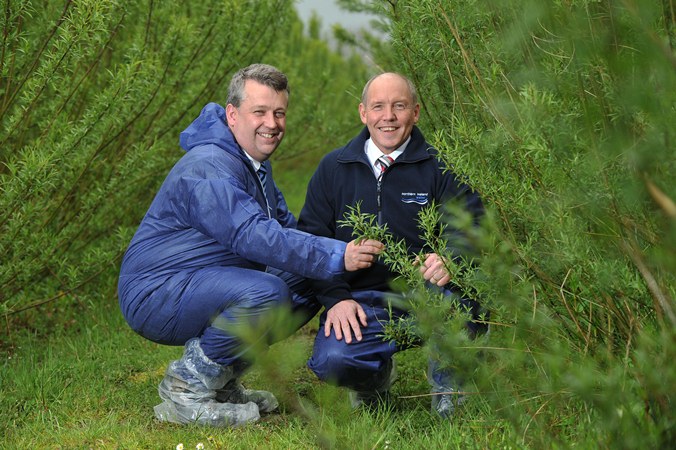 An agreement for an innovative new project has just been agreed between NI Water and Resourceful Organics Ltd to trial the use of willows as a natural vegetative filter to clean wastewater from a site in Dungannon. This is a commercial pilot project and is the first of its kind in Northern Ireland. Northern Ireland is a leading region within the British Isles in terms of researching, trialling and proving the concept of this technology.
The scheme will involve testing the use of willows as a natural filter (biofiltration) system to clean wastewater from Drumkee Wastewater Treatment Works (WwTW), Dungannon. If successful, this natural willow technology could provide NI Water with a robust reliable solution for the cleaning and treatment of wastewater in other rural areas, and provide significant benefits in terms of reducing capital expenditure, carbon footprint and environmental sustainability.
Bill Gowdy, Director of Engineering Procurement at NI Water explained:
"This is a great first step in trialling an innovative environmental wastewater solution for Northern Ireland and we look forward to monitoring the progress of this new natural form of wastewater treatment."
John Gilliland, representing Resourceful Organics Ltd said:
"Willows are one of the easiest plants to grow in our climate and have the ability to absorb a considerable amount of nutrient, either as a liquid or sludge. As regulations for the disposal of wastewater and sludge become stricter, environmentally acceptable options must continue to be found for dealing with these wastes. I look forward to working with NI Water on this project."
The Northern Ireland Environment Agency is also involved in the project, and Mark Livingstone from the agency commented:
"Effective, yet sustainable wastewater treatment solutions are required to protect our environment. The Northern Ireland Environment Agency is excited to work with NI Water, Resourceful Organics and AFBI on this innovative research project".
The proposal involves recycling the effluent or wastewater produced from the existing WwTW at Drumkee, which will then be used to irrigate willow growing on neighbouring land. The willows provide a natural filter system, which will be used to clean wastewater. The wastewater filters through the willows and is cleansed of impurities. They also provide important diverse habitats for a wide range of wildlife.