Waveney Youth Centre Receives NI Water Makeover
07 June 2013 11:49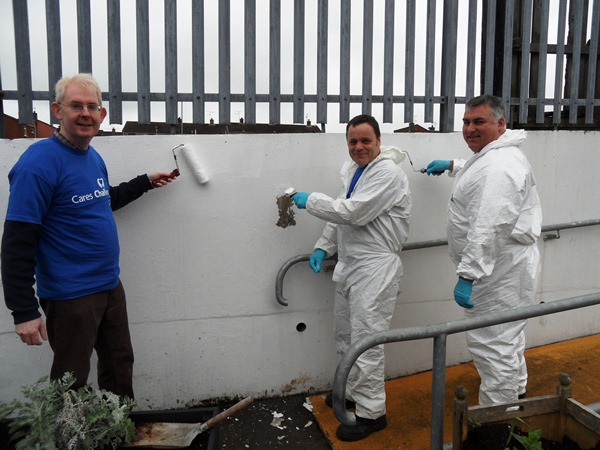 Volunteers from Northern Ireland Water took up a Cares Challenge and dedicated a day of their time when they were invited by Waveney Youth Centre in Ballymena to brighten up the exterior with a fresh coat of paint.
Fifteen members of staff from across NI Water led by Bill Gowdy, Director of Engineering Procurement, NI Water, took part in the initiative last month, with the objective to have fun and make a difference. The NI Water volunteers spent the day at the Centre in North Ballymena tidying outside areas and painting the exterior walls brilliant white, adorned with the Waveney Youth Centre logo. The paints and materials for the task were sponsored by Eurown Wallpaper and Paints Ballymena.
NI Water was invited to participate in the Cares Challenge by Centre Leader Janine Jackson. She said:
"I would like to thank personally everyone at NI Water who took part and gave up their time. Freshening up the outside creates a positive perception of the Centre which is situated in an area that is community-orientated and is a safe place to visit.
"The NI Water Cares Challenge has helped our young people realise that people support them and they appreciate it – it has made them feel very valued."
The Cares Challenge initiative, in partnership with Business in the Community's NI Cares Programme, is part of NI Water's Cares Challenge Volunteering Programme – a programme of activity planned to help various groups throughout Northern Ireland and led by a member of NI Water's Executive Committee/Board with colleagues joining them from around the business.