Kennedy opens new wastewater treatment works on Rathlin Island
03 July 2013 14:14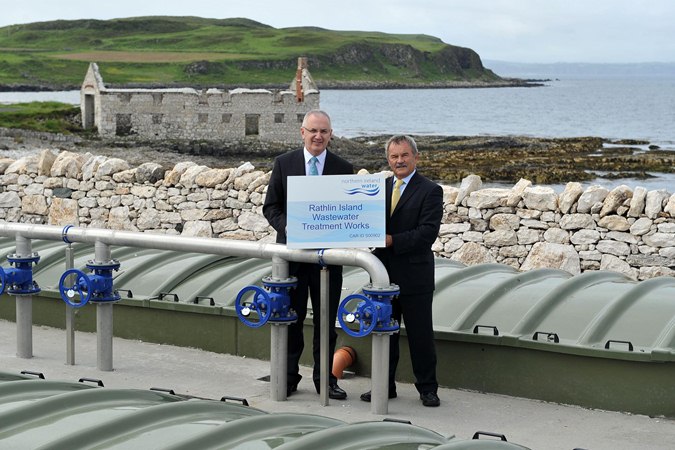 Regional Development Minister Danny Kennedy travelled to Rathlin Island today to mark the completion of the Island's new state-of-the-art wastewater treatment works (WwTW).
Representing an investment of approximately £500,000, the new Rathlin Island WwTW and associated pumping station were constructed as part of Northern Ireland Water's 'Rural Wastewater Investment Programme', a multi-million pound portfolio of work being carried out to upgrade wastewater facilities and deliver improved water quality right across Northern Ireland.
Welcoming the new infrastructure for Rathlin, which will support the recently completed social housing development on the Island, Danny Kennedy said: "I am delighted to be here on Rathlin Island today to officially open the new Wastewater Treatment Works. This modern new facility has been cleverly designed with two fully enclosed, highly efficient treatment units, offering flexible capabilities to cope with the fluctuating winter and summer needs of the Island, while its robust treatment processes will ensure that the treated effluent being discharged meets the latest Northern Ireland Environment Agency consent standards.
"Balancing the requirement for effective wastewater treatment with protecting the sensitivities of archaeological rich areas such as Rathlin, and being able to successfully integrate what is effectively an industrial facility into an area where tourism plays such a major role takes a lot of careful consideration and planning.
"I congratulate the NI Water project team in achieving a low-impact design and recognise the excellent work of DRD Regional Planning Unit and the Northern Ireland Environment Agency for their support throughout the planning process."
The new Rathlin WwTW, brings to 101 the number of projects which have been delivered to date under NI Water's Rural Wastewater Investment Programme (RWwIP). Commenting on the benefits delivered by the scheme and the challenges it has posed, Trevor Haslett, NI Water Chief Executive said: "This dedicated rural programme has seen the construction of over 100 new treatment works spanning the length and breadth of Northern Ireland since it began in 2008. Each project represents a significant investment by NI Water to implement the latest technology available to raise the standard of wastewater treatment so that rural communities can benefit from improved air and water quality."
Covering such a wide geographical area, the RWwIP programme has not been without its challenges – and no more so than in Rathlin. With no modern concrete mixing plants readily accessible, the 400 tonnes of concrete used in the construction of the new treatment works and underground pumping station were mixed by local tradesmen using the more traditional methods of tractor and mixing pan.
Recognising the logistical difficulties posed by the Rathlin project, Trevor Haslett added: "Any type of building work in locations such as Rathlin brings with it a host of challenges for the construction team. In this respect I'd like to pay tribute to the entire NI Water project team including McAdam Design, joint venture contractors, BSG Civil Engineering and Williams Industrial Services, who, along with the local tradesmen, worked long hours to successfully deliver this project ahead of the main tourist season. Finally and most importantly, I'd like to thank all the local people, service providers and organisations - particularly the Rathlin Development & Community Association - who helped facilitate the team along the way."