Utilities launch winter readiness campaign
05 December 2013 14:10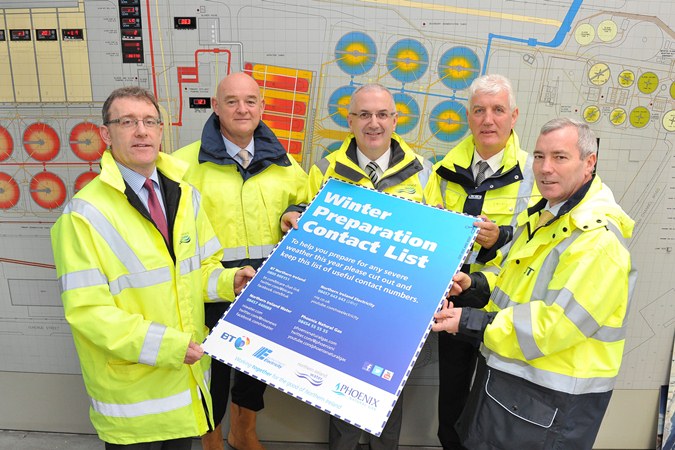 Senior executives from Northern Ireland's main utility companies have met with Stormont Ministers to update them on the annual joint campaign to prepare for any potential disruption caused by extreme weather.
Over the last number of years BT, Northern Ireland Electricity (NIE), NI Water and Phoenix Natural Gas have been working together regularly to identify ways in which the companies could provide mutual support and aid during periods of severe weather or other unforeseen situations.
Regional Development Minister Danny Kennedy said: "Everyone needs to be prepared for winter.
"I am confident that this campaign will help minimise any disruption of services for customers, particularly in an emergency situation or in conditions of extreme weather.
"The support our utility companies provide to all of us is vital and I commend them for proactively working together to share their knowledge and resources".
Speaking after the high-level Ministerial briefing at NI Water's Control room at Belfast Wastewater Treatment Works, BT director, Alex Crossan said:
"The severe snow earlier this year allowed us to test the mutual aid protocols we had put in place. We were able to borrow additional lifting equipment and trained operators from our colleagues in NIE to help us repair the telecoms network. All utilities need to respond quickly and sometimes when severe weather hits we need help to provide the fastest possible response for our customers."
Peter Dixon from Phoenix Natural Gas explained:
"Although all of our companies require specialist skills to repair our networks, following an operational audit we identified a number of areas where we could work together for the mutual benefit of consumers. In particular we have looked at shared resources such as people, equipment, transportation vehicles or access to buildings."
Experts believe that extreme weather across the UK and Ireland is becoming more commonplace and local government has commended the utility companies for working together in such instances if appropriate.