Holywood/Kinnegar Sewerage Infrastructure Improvement Project
10 December 2013 14:14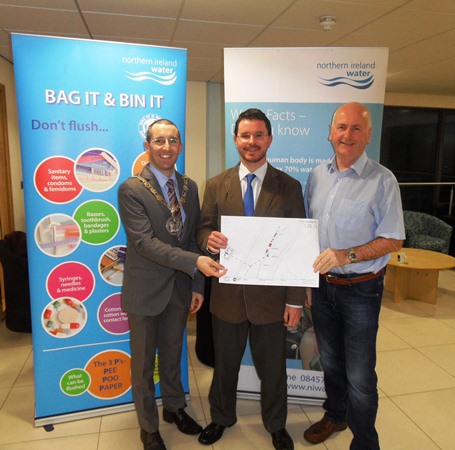 An information evening took place on Monday 9th December in Holywood Baptist Church Hall to update local residents from the Strathearn Court area on the Holywood/Kinnegar Sewerage Infrastructure Improvement Project.
NI Water is planning a programme of sewer laying and tunnelling work in 2014/15, that will affect the Strathearn Court area. The work at Strathearn Court is part of a major engineering project to improve the sewerage infrastructure in the Holywood/Kinnegar area and reduce the likelihood of odour issues in the area.
The project, which involves the construction of sewers and tunnels in the vicinity of the A2 Belfast / Bangor Road and railway line, will divert wastewater overflow discharges to a new waste water pumping station adjacent to Kinnegar Wastewater Treatment Works.
The overall programme of improvement work is scheduled to get underway in Spring 2014, and is scheduled to be completed by Summer 2015. The work at Strathearn Court will take approximately 3 months and will be completed during this period.
NI Water will continue to keep local residents and elected representatives updated on the progress of this project and will announce further details in the new year.
(Pictured L-R) Cllr Andrew Muir, Mayor of North Down, Mark Sefton NI Water, and Gordon Dunne MLA