Make Room Fatberg, Turkeyberg is coming!
20 December 2013 10:17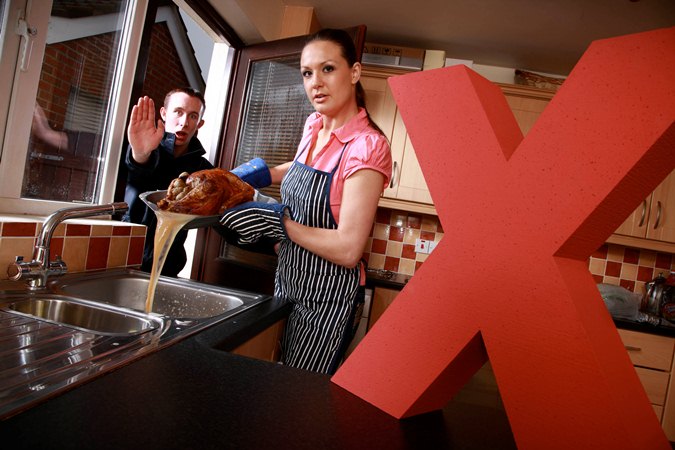 A UK survey shows 25% more fat, oil and grease (FOG)* is poured down the nations sewers at Christmas than at any other time of the year.
Turkeyberg is the Christmas term for the FOG that we will pull out of our sewers following this Christmas season as people continue to tip fat, oil and grease down the sink which has disastrous effects on our drains.
As FOG cools, it solidifies and creates blockages in the sewerage system, which often results in out of sewer flooding. This year, NI Water dealt with approximately 20,779 sewer blockages at a cost of £1.7 million.
Des Nevin, NI Water's Head of Networks Sewerage said:
"Christmas and the New Year are a popular time for friends and families to get together, often to enjoy a roast dinner. While the meal may be planned with meticulous detail, little attention is paid to what we put down the sink. When fat, oil and grease solidifies in the sewers it prevents wastewater flowing through the pipe, and often causes a blockage.
"Fat, oil and grease in its liquid form may not look harmful, but once in the drains, it is. Even when hot water or soap is poured down the sink – the fat, oil and grease will still harden. Detergents and bleach may also appear to work, but this is only temporary.
"When a drain becomes blocked and overflows, the consequences can be devastating. We can all play a part in maintaining the sewerage infrastructure from restaurants, pubs and hotels right through to home owners and industrial outlets."
One way to dispose of fat, oil and grease is to let it cool and solidify, and then scrape it into the rubbish bin, or alternatively it can be poured into a suitable container and taken to a Council Recycling Centre. Or you make a pine cone bird feeder!
Additional information on disposing of fat, oil and grease can be found at http://www.niwater.com/fatsoilgrease.asp. You can also view first hand the damage FOG can do to a sewer by visiting our Youtube page http://www.youtube.com/user/northernirelandwater