Kennedy announces £14million Castor Bay to Belfast Water Trunk Main
27 January 2014 9:52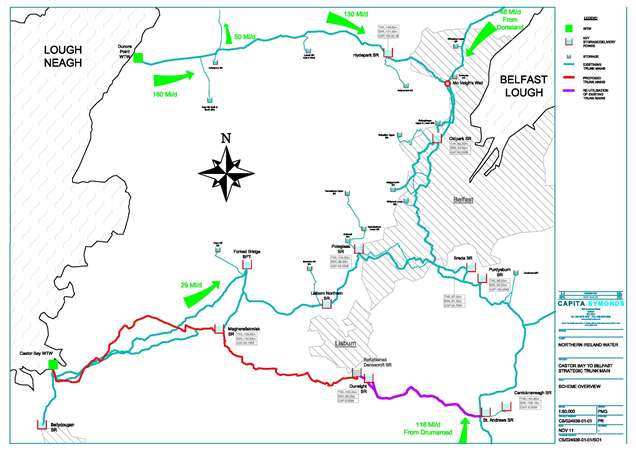 Regional Development Minister Danny Kennedy has announced a £14million investment package of work to improve the security of the water supply infrastructure for customers in Belfast and Lisburn.
The Castor Bay to Belfast Water Trunk Main, which will get underway in February 2014 will involve laying a new 29kilometres water pipeline from Castor Bay Water Treatment Works in Craigavon to south Lisburn, where the pipeline will link into an existing trunk main to transport the water supply on to Belfast. This major scheme will provide a vital source of water coming into Belfast, which will be especially important during future winters and in supplementing increased demand in the area. The project will continue until Summer 2015.
The project will also involve improving the water infrastructure around the pipeline route, including upgrading the existing Castor Bay Water Pumping Station (Craigavon); a new water pumping station at Sprucefield and a new water pumping station at St. Andrews Service Reservoir (Temple).
Danny Kennedy said: "This major investment is good news for customers. It will improve the security of the water supply infrastructure in Belfast and Lisburn. It will also provide a welcome boost to the construction sector, with the contract for the work being won by local firm, Lagan Construction."
"The scheme will also improve drinking water quality, reduce leakage and ensure that NI Water complies with EU directives."
Sara Venning interim Chief Executive, NI Water added: "We at NI Water are pleased to announce this important project for the security of the water supply, and, along with our project delivery team of Lagan Construction and Capita will work with the public to ensure that this work is carried out with minimum disruption. Further updates will be available and signage will be in place as the scheme progresses.
"Where possible, night-time working will be employed to reduce traffic disruption, and we would like to thank residents and road users in advance for their co-operation and patience during this essential improvement work."
NI Water's customer relations team can be contacted via Waterline on 08457 440088. Customers with any questions on the scheme should quote "Lagan Construction Water Mains Rehabilitation Programme".