Water & Wildlife for World Wetlands Day
03 February 2014 12:54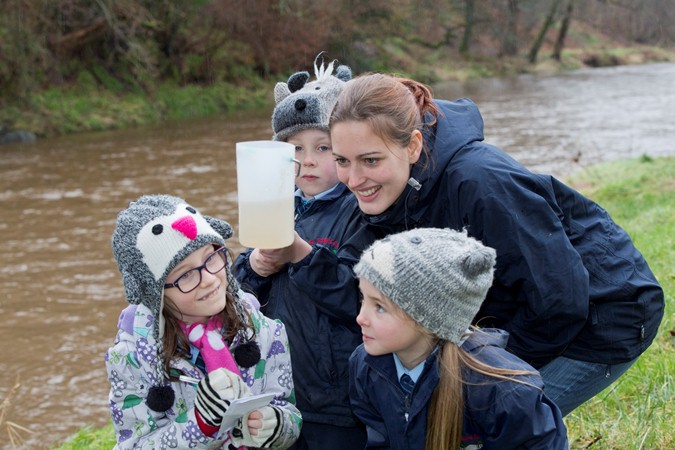 To mark World Wetlands Day on Sunday 2nd February, NI Water recently paid a visit to a Water and Wildlife event organised by Omagh District Council.
Anna Marshall from NI Water spoke to the children about how NI Water looks after wetlands,
"Wetlands are places where land and water meet and there are over 80,000 hectares of them in Northern Ireland, many of which are accessible to the public. NI Water use wetlands on a daily basis, from extracting water to use for drinking, to pumping it back in.
"NI Water staff were delighted to participate in Omagh District Council's event to mark World Wetlands Day on the banks of the Camowen River. It is encouraging to see so many young people taking part, highlighting the role everyone has to play in taking care of and appreciating our wetland areas.
"Other Wetland areas are right in the heart of communities, for example Bog Meadows in West Belfast, while others can be found in Glenarm, Moyola, Waterfoot and Lagan Meadows.
"World Wetlands Day is an excellent opportunity to remind us all that we need to take care of and appreciate our wetland areas."
Julie Corry, Biodiversity Officer at Omagh District Council, adds: Working with NI Water today on this Water and Wildlife education programme for local schools helps us to teach the next generation about the vital importance of healthy rivers for both people and biodiversity. The education programme is part of a wider project 'Reviving the lower reaches of the Killyclogher Burn' which is funded by the NIEA Water Quality Improvement Grant and Omagh District Council, delivering local action for the Water Framework Directive and helping to deliver the Omagh Local Biodiversity Action Plan."
This year's official theme is 'Wetlands and Agriculture' and NI Water would like to raise awareness of how vital our wetland areas are by encouraging the public to enjoy them while also taking care of them. It is surprising how very simple, everyday activities impact on local rivers, streams and ponds.