Beat the Freeze and be a Winter Champion with NI Water!
18 February 2014 12:00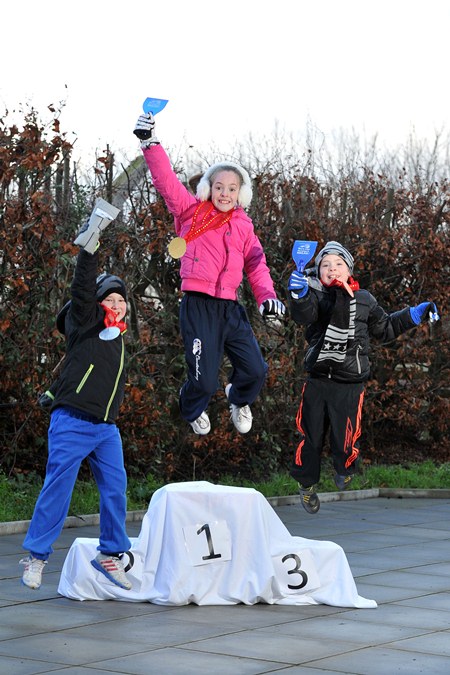 With the Winter Olympics underway in Sochi, NI Water is offering you the chance to be a winter champion during this Olympic season!
You too could be a winner of gold, silver or bronze, by simply entering our "Beat the Freeze' competition. With temperatures set to fall once again, it's important that homes and businesses across Northern Ireland are prepared to beat the freeze. Winners of our competition will receive a gold, silver or bronze 'winter pack' which includes an ice scraper, a stop-valve tag and a thermometer card.
Simply take a photo of your 'Beat the Freeze' preparations – such as the lagging on your water pipes or on your external taps – and send it to us via Twitter or Facebook – and we'll chose the top 100 winners to receive our packs.
Jane Jackson, Education Manger at NI Water, said: ''The Winter Champion programme is a fun way of uniting one of the world's greatest sporting events with our vital 'Beat the Freeze' message. Winter is still with us, and as temperatures descend quicker than a downhill skier, it's important to take steps to stop your property turning into an ice rink!
''As in any sporting competition, preparation in advance of severe weather is crucial. Here's what you can do to be a winter champion:
Insulate water tanks and pipes in unheated areas like lofts/roof spaces; garages; outbuildings, etc.
Ensure there are no gaps at bends, valves or fittings!
Fix dripping taps.
Find your internal stop-valve – this is usually under the kitchen sink.
Service your boiler regularly.
Always have a qualified plumber's details to hand.
''It only takes one big freeze to cause a burst pipe, and that can mean no water and damage to your personal property and possessions. Taking these simple steps now can help make you a winter champion worthy of a gold medal!''
To be in with a chance of becoming a gold, silver or bronze winter champion, take a photograph of how you've protected your water pipes or fittings this winter (selfies welcome!) and tweet to us at @niwnews or via Facebook at https://www.facebook.com/northernirelandwater