North Down Council visit Local Sewerage Improvement Scheme
02 April 2014 15:16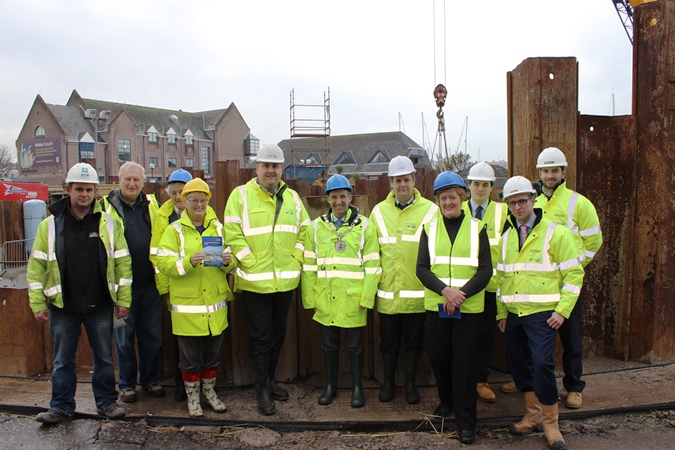 The Mayor of North Down, Councillor Andrew Muir, accompanied by fellow councillors was on site today at Bangor marina and Luke's Point to view progress at NI Water's £3.1m Bangor Sewerage Improvement Scheme.
The major project, which got underway in November 2013 to upgrade the sewerage infrastructure and key pumping stations in the North Down area will be completed before summer 2014.
Grahame Millar, NI Water Project Sponsor said: "The Bangor project is progressing well and we were delighted to have the opportunity to show the Mayor and his fellow councillors around both sites today.
"With upgrade work now well advanced at Luke's Point and the construction of a new Pumping Station at Bangor Marina, the investment will greatly improve the sewerage infrastructure in the area, delivering extra storage capacity into the system, particularly during periods of heavy rainfall.
"NI Water would like to thank North Down Borough Council for their assistance as well as local residents and businesses for their ongoing patience throughout the scheme".
The Mayor of North Down, Councillor Andrew Muir added:
"I was pleased to be on site today to see how well the project has progressed in recent months. It is good news for the local area, as it will greatly improve the water quality in Ballyholme strand and the surrounding watercourses.
The work will also ensure that NI Water complies with Northern Ireland Environment Agency standards and EU Directives for bathing water quality."
NI Water and our contractor, BSG Civil Engineering will do everything possible to complete the work as quickly as possible with minimum inconvenience. Customer queries should be directed to Waterline on 08457 440088.