Three New Walking Trails Opened in Silent Valley
29 May 2014 16:56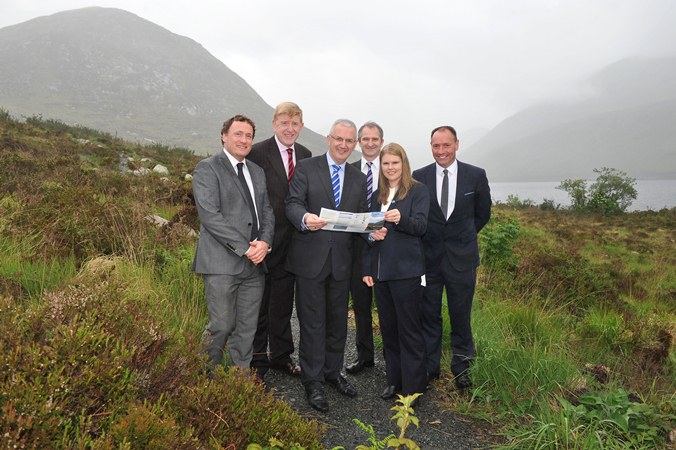 Transport Minister Danny Kennedy opened three new walking trails in the heart of the Mournes at Silent Valley, Co Down.
The event hosted by NI Water to mark the launch of the new trails was attended by various stakeholders and elected representatives, including the Mayor of Newry & Mourne Council, Cllr Michael Ruane.
The trails offer visitors a full range of impressive walking routes to suit visitors of all abilities. Other recent improvements completed in 2012 include improvements to the visitor's centre, new signage, and an extended children's play area.
Minister Danny Kennedy said: "While the Silent Valley Reservoir is a place many people may associate with providing drinking water, these new walking trails will help put this area of outstanding natural beauty and engineering achievement on the map as a compelling visitors' attraction.
"My Department and NI Water's primary focus is managing the site, including the reservoir, which is the largest in Northern Ireland, holding over 13,000million litres of water and stretching over 2.5miles, providing water to over 200,000 customers on a daily basis.
"It really is a hidden treasure. The new walking trails will enable visitors to truly appreciate the beauty of the Valley whilst also enjoying the other fantastic facilities which were upgraded under Phase One of the project, including the visitor's centre, which captures a time gone by and allows us to glimpse into the life of workers during the years of the Reservoir construction."
Mr Duncan McCausland, Board Member, Northern Ireland Tourist Board added: "NITB is delighted to provide financial assistance for both Phase 1 and Phase 2 of this project through its Tourism Development Scheme and work in partnership with key stakeholders to help deliver these superb works.
"I am confident that these developments will not only increase visitor numbers and spend to the local economy, but also highlight the immense history within this area in terms of its historical, cultural and industrial heritage."
New information leaflets detailing the facilities available at the Park are available on the NI Water website and are distributed to the visitor on arrival.
For further details of the improvements, opening times and entrance fees to the Park, please see the NI Water website
http://www.niwater.com/silent-valley/