Business and Biodiversity Award for NI Water
09 June 2014 11:41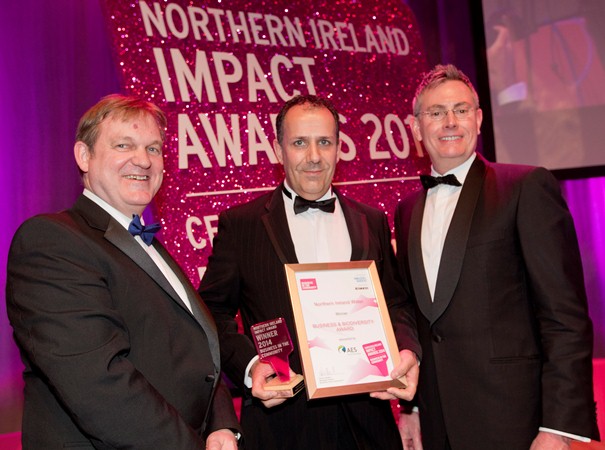 NI Water picked up the Business and Biodiversity award for a bog restoration project in the Garron Plateau, Co Antrim at the Business in the Community Awards which were held in Belfast recently.
NI Water along with RSPB and NIEA undertook to protect and restore over 2000 hectares of peatland at Garron Plateau Blanket Bog in the Antrim hills.
The Garron Plateau is the largest intact peatland in Northern Ireland and an Area of Special Scientific Interest (ASSI). A peatland bog can bring many benefits to the environment around it such as, increased carbon storage, providing a home for flora and fauna and supply quality raw water to Dungonnell Reservoir.
Roy Taylor, Catchment Manager for NI Water welcomes the award and explains the project, "The land was damaged and in need of restoration. Overgrazing, trampling of livestock and drainage ditches resulted in the supply of poor quality water to Dungonnell Reservoir. This not only increased costs during the water treatment process but also increased our carbon emissions.
The aim of the project was to restore it back to its original condition, secure habitat for wildlife, improve water quality at the source and maximise the bogs potential as a vital carbon store.
"Work was completed in February 2014 and is now beginning to grow over with natural vegetation and any improvements in raw water quality will be monitored over the longer term."
Commenting on the event, Roy Adair, Chair of Business in the Community Northern Ireland said: "I'm often asked, what makes a business responsible? Attending the NI Impact Awards and learning about the great work of these inspirational companies makes answering that question really easy. Responsibility is born from a business' desire, not just to be profitable, but to add value to its workforce, the environment and the communities in which it operates in the course of making those profits. I know this years' judges had a struggle to choose winners in many categories as the standard of entries continues to exceed expectation."
NI Water picked up the 'Business and Biodiversity' award sponsored by AES.