Kennedy secures completion of £1.3million schemes following financial difficulties of developers
02 July 2014 15:58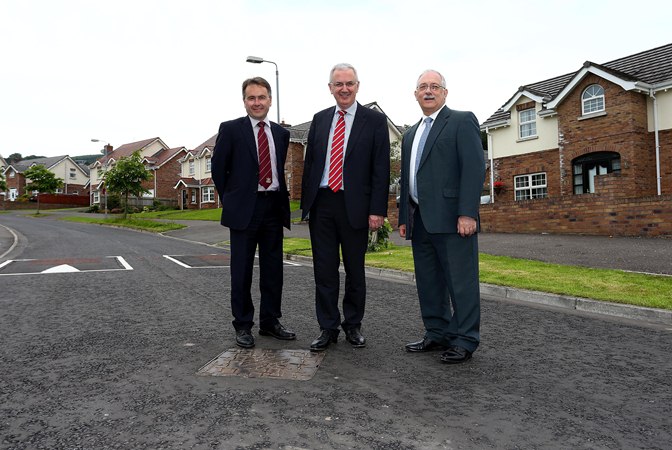 Regional Development Minister Danny Kennedy has taken action to ensure that road works and utility services in three housing developments left unfinished by developers in Belfast and Lisburn will be completed using Road Bond funding.
Following financial difficulties of three developers, uncompleted developments; Chestnut Hall, Maghaberry, Mount Eagles, Belfast and Glenburn Manor, Dunmurry quickly fell into disrepair and far short of the standard required to permit adoption into the roads network by the Department for Regional Development and NI Water.
Under the Private Streets Order Legislation, DRD Minister Danny Kennedy instructed his Department to use the Road Bond, originally put up as a surety by the developer to fund the completion of the unfinished work without the need for additional public funding.
Danny Kennedy said: "Following the unfortunate financial difficulties of the developers, funding to complete the utilities in Chestnut Hall, Maghaberry, Mount Eagles, Belfast and Glenburn Manor, Dunmurry will be entirely drawn from the developers' Road Bonds.
"The Bond is a vital requirement within a development contract and is included to safeguard the public purse.
"Over the past months residents have seen DRD and NI Water complete the very significant amount of work required."
DRD and NI Water have continued to work closely together over a number of months to ensure that the road and sewer infrastructure of the three developments were upgraded significantly. This has enabled them to be adopted into the public realm permitting the Department to oversee the maintenance of these streets.
Frank Stewart, Developer Services Manager at NI Water comments: "NI Water is pleased to advise that the sewerage systems serving developments at Mount Eagles in West Belfast, Glenburn Manor in Dunmurry and Chestnut Hall in Maghaberry have been successfully adopted. This good news follows the completion of work by NI Water which the original developer did not complete to a satisfactory adoptable standard. This work was made possible by working closely with our colleagues in DRD to take forward the completion of the outstanding works under Article 11 enforcement powers of the Private Streets (Northern Ireland) Order 1980."
The estimated amount currently held in surety regarding these developments is in the region of £1,300,000.00 which shall be recovered by the Department to cover the cost of these necessary works.