Meridian wins £64 million Northern Ireland Water contracts
22 July 2014 14:46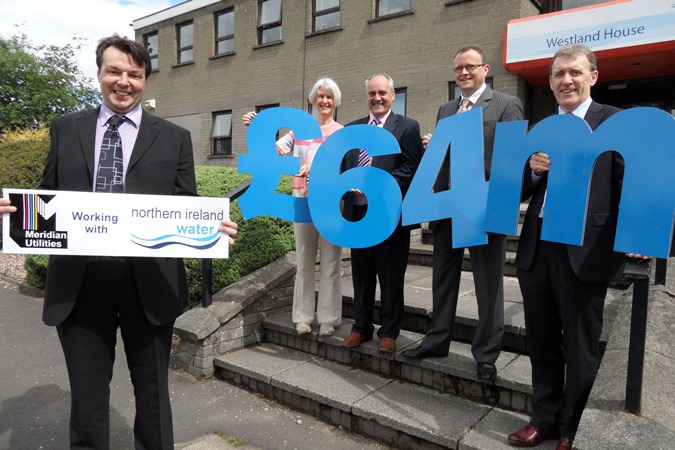 Local company, Meridian Utilities Ltd. was recently awarded two contracts with a combined value of over £64 million from NI Water.
Meridian Utilities Ltd, a Joint Venture Company consisting of Morrow Contracts Ltd, Mills Contracts Ltd and T O'Connell & Sons are based in Gilnahirk, Belfast and have offices in Dungiven and Omagh. Meridian Utilities Ltd will support NI Water through a £55 million Water and Wastewater Networks Services contract, providing a range of water and sewerage services, including sewer and watermain repairs and maintenance; clearing of sewer blockages; leakage repairs, street furniture maintenance and minor water and sewerage infrastructure improvements. A second contract, with a value of £9 million is for Water Meter installation, Maintenance and Associated Services. Activities under this contract include meter maintenance and a pro-active meter exchange program.
Terry McCrum, Commercial Manager with Meridian Utilities Ltd, commented,
"We are extremely pleased to have won these contracts and strongly believe that Meridian has the expertise, skill and manpower to fulfil these contracts to the highest standard on behalf of NI Water. We look forward to working with NI Water over the next three years.
NI Water's Acting Director of Customer Service Delivery, Alec McQuillan, commented:
"We were looking for a company which would not only enable us to continue our focus on cost efficiency and value for money but will also put the needs of our customers at the centre of everything they do. We believe Meridian will help us provide the high level of customer service we require and our customers expect.
"We are pleased that it was a local Northern Ireland company which provided the best offer and won these substantial contracts."
Meridian Utilities Ltd, who employ in excess of 200 staff, were awarded these contracts following separate rigorous procurement processes.