Businesses join forces to fight the festive fat
22 December 2014 11:51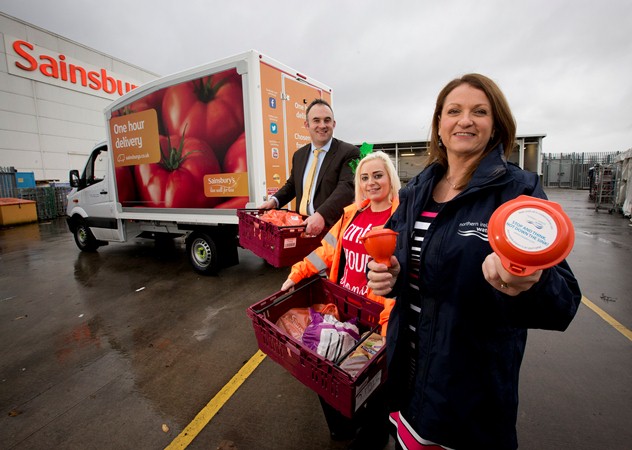 NI Water is teaming up with Sainsbury's and water companies across the UK to encourage customers not to cause 'pain in the drain' this Christmas.
Each year, thousands of sewer blockages are caused by people pouring cooking fat, oil and grease (FOG), down their kitchen sinks. People genuinely do not realise the harm they are doing to their neighbours when they tip the fat down the sink. These blockages at best are expensive to clear and at worst can lead to flooding inside homes and businesses which can be devastating, particularly at this time of year.
NI Water is now working with Sainsbury's to give away 1,500 fat funnels to people ordering their shopping online from Sainsbury's this Christmas, contributing to more than 200,000 across the UK. The traps and funnels can be used to collect waste FOG for recycling or disposal via the bin.
Angela Halpenny, Head of Environmental Regulation, said: "Getting together over a meal with family and friends is a great part of the festive season - but all that cooking produces fats and oil that can block your drains. We want people to enjoy themselves, but at the same time be mindful of what they are doing with the left over fat from their meal. In most cases sewer blockages are avoidable just by being careful about what we put down the sink or the loo. This initiative with Sainsbury's is a practical solution to a very common problem."
Paul Crewe, Head of Sustainability for Sainsbury's, commented: "We're proud to be distributing over 130,000 fat traps and funnels nationwide this year. As well as keeping Britain's waste water network flowing, the cooking oil and fat captured from your roast this Christmas could be turned into bio-fuel to power vehicles."
Edward Wright, Sustainability Director from Business in the Community's ARENA Network said: "We are delighted to be part of this initiative. It clearly shows how business collaboration can deliver practical results that are good for business and help us all to live more sustainably while create wider value for society."
Sainsbury's will be sending out 130,000 fat traps and funnels with online deliveries. Terms and conditions apply.