Stop and Think About the Water You Drink – Use Pesticides Responsibly!
15 June 2015 15:32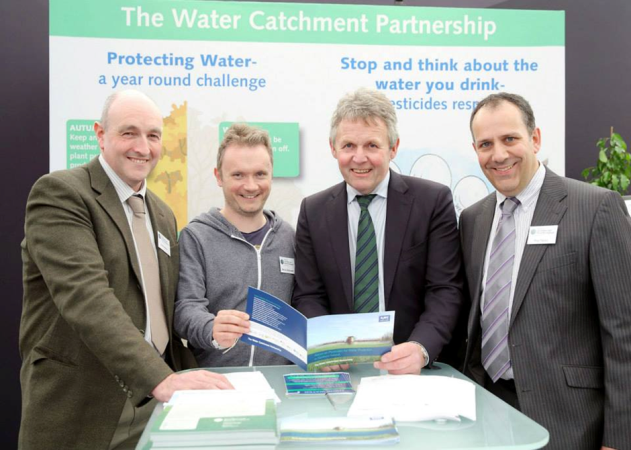 The Water Catchment Partnership (WCP) is calling on everyone to take care when using and disposing of chemicals and pesticides to help improve water quality. The WCP was founded in 2013, and has been active since then in highlighting the pesticide problems in raw water. The WCP also assists the agricultural and amenity sectors in how they can help by following best practice when using pesticides. There are high residuals of the herbicide MCPA found in many watercourses in Northern Ireland.
Almost 50% of spills occur when filling or washing out a sprayer or container. A single drop of pesticide entering a river can cause problems up to 18 miles downstream. Pesticides are commonly used in the garden or farm, and include herbicides, weed killers, fungicides and insecticides.
Everyone has an interest in having the highest possible quality drinking water, and there are simple things that we can all do to help with this. Representatives from the WCP are involved in a number of events this year to raise awareness and attended this year's Balmoral Show from 13–15 May (at the Department of Agriculture and Rural Development (DARD) stand).
The partnership will also attend the annual Omagh Show on 3–4 July and Clogher Valley Agricultural Show on 29 July; representatives will be available to provide best practice guidance on grassland pesticide use.
Members of the Partnership have also been attending and hosting a number of events and conducting a series of engagement visits in the Derg catchment area over the past year and hope to repeat these activities again this year. This summer, it is intended that a Farm Engagement Officer from the Water Catchment Partnership will visit farms and households in the Derg catchment area during the summer months to raise awareness and provide best practice guidance and help on pesticide use.
A leaflet specifically from the WCP has been published, providing advice on Pesticides for Water Protection in Northern Ireland. This leaflet can be downloaded at: http://www.niwater.com/sitefiles/resources/pdf/leaflets/2015/pesticidebooklet.pdf
In addition, a leaflet focusing on grassland weed control and protecting the water environment has also been published. Copies of Grassland Weed Control – A Best Practice Guide to Controlling Weeds and Protecting the Environment – can be obtained from Ulster Farmers Union (UFU) Offices, Northern Ireland Environment Agency (NIEA), Northern Ireland Water (NI Water), College of Agriculture, Food & Rural Enterprise (CAFRE) or can be downloaded from the VI website:
www.voluntaryinitiative.org.uk/_Attachments/resources/1510_S4.pdf
Comprehensive advice on all aspects of using pesticides is contained in the DARD Code of Practice for Plant Protection Products. This Code explains how to use plant protection products safely and so meet the legal conditions which cover their use. A summary A3 wall chart has also been produced to accompany the Code and provides users with a quick reference guide. Both documents can be downloaded from DARD's website: http://www.dardni.gov.uk/code-of-practice-for-using-plant-protection-products or obtained from DARD by telephoning 028 9052 4544.