Love Your Drain – Use an Ekofunnel!
23 July 2015 10:10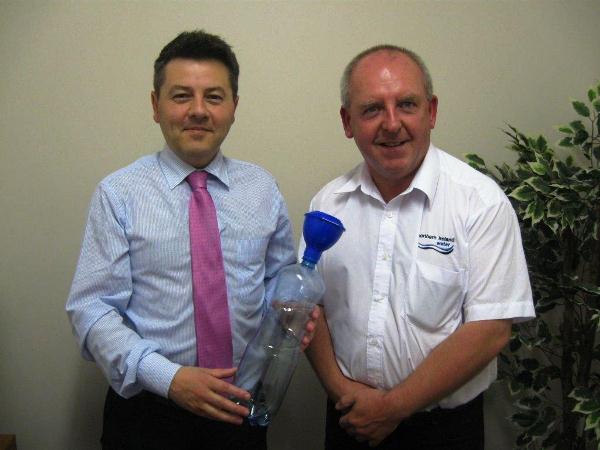 NI Water is encouraging customers in the Limavady area not to rinse their cooking FOG (that's fat, oil and grease) down the sink!
Customers can now use the Ekofunnel device to pour the cooking oil and fat into a plastic bottle and put it in the bin; this means you don't have to worry about blocked drains or foul smells in your kitchen! The funnels are designed to be screwed onto an empty bottle so that when the FOG is cooled, it can be easily poured into the bottle for recycling or disposal via the bin.
As fat, oil and grease cools, it solidifies and creates blockages in the sewerage system, which often results in out of sewer flooding. NI Water deals with thousands of sewer blockages each year, many of which are caused by FOG. In its liquid form, FOG may not look harmful, but that changes once it enters the drains. Even when hot water or soap is poured down the sink , the fat, oil and grease will still harden. Detergents and bleach may also appear to work, but this is only temporary. Each year we spend valuable resources fixing avoidable problems.
When a drain becomes blocked and overflows, the consequences can be devastating. Everyone has a role to play in maintaining the sewerage infrastructure from restaurants, pubs and hotels right through to home owners and industrial outlets.
Pictured encouraging local customers to dispose of cooking FOG appropriately are local DUP councillor Alan Robinson and Brian Donaghy, NI Water's wastewater manager for the Limavady area.
To get an Ekofunnel, please contact NI Water on 03457 440088 or email waterline@niwater.com.