A Towering Shame about Mourne Rubbish
24 September 2015 12:29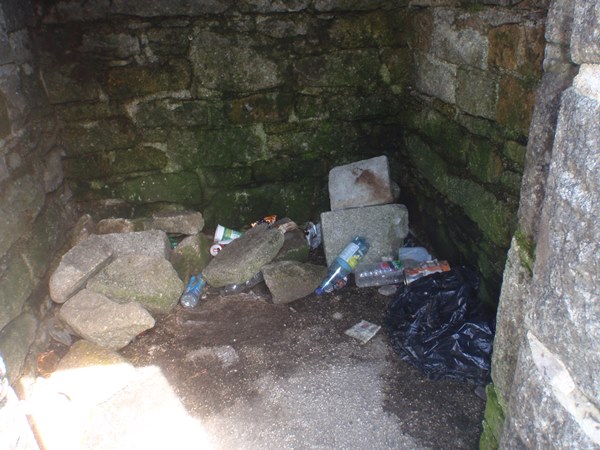 NI Water is appealing to walkers in the Mournes – by all means enjoy and admire the three distinctive stone towers that sit atop Slieve Commedagh, Slieve Meelmore and our highest mountain, Slieve Donard – but please look after them!
The three 'shelter towers' were reopened to the public earlier this year following a significant programme of investment totalling £64,000. However, the effect of this work is being spoiled by a small number of walkers who treat the towers as rubbish bins; even as toilets!
Celine Rodgers of NI Water said: ''The towers are a longstanding feature in the Mournes, dating from the early 20th Century when the Mourne Wall was constructed by the former Belfast Water Commissioners to enclose the land purchased to provide a safe, reliable water supply for Belfast, and NI Water is proud to maintain them. However, they also serve a practical purpose – to provide shelter in inclement weather, something that may prove particularly useful as we approach the autumn and winter.
''Therefore, it is most disappointing that a small number of individuals choose to act in such a careless, indeed selfish, manner by leaving litter and worse in the towers. This leaves the towers in a highly unattractive state, deterring people from using them for shelter. It also increases the risk of disease, and has already led to unplanned expenditure to return the inside of the towers to an appropriate condition. This could all be avoided if people took the time to clean up after themselves.
''The Mourne area remains vital to NI Water as a source of drinking water; approximately 130 million litres of water is produced by Silent Valley alone every single day. We are always pleased to welcome the public to our site at Silent Valley Mountain Park, and to avail of the shelter provided by the towers when out hiking, but we want to appeal to the good nature of visitors – please leave the towers as you would like to find them and take your rubbish home with you!''
Approximately £64,000 was invested to carry out essential maintenance and refurbishment work on the three towers earlier this year. This was done in conjunction with the Department of Agriculture and Rural Development; Down Rural Area Partnership and SOAR (Southern Organisation for Action in Rural areas) both funded via the Northern Ireland Environment Agency; Mourne Heritage Trust; and the Mourne Mountains Landscape Partnership, supported by the National Lottery Heritage Lottery Fund. Co-operation has ensured the survival of these valuable landmarks to be appreciated by future generations as well as continued practical use as shelters for hikers caught in poor weather conditions.