'Water Team' Scoop Major Prize at Construction Excellence Awards
21 October 2015 16:38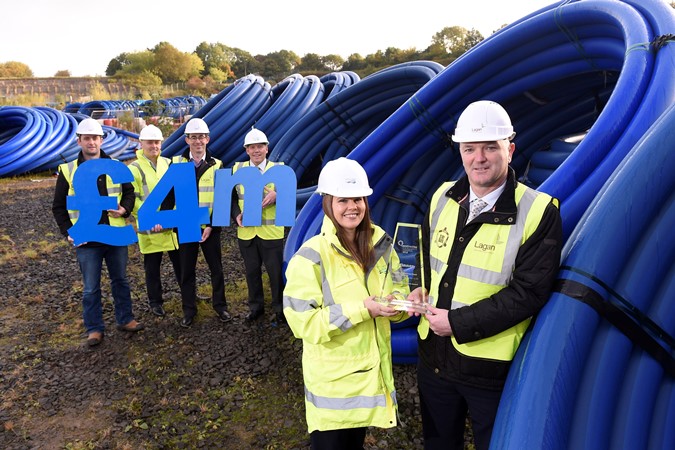 NI Water's contractor, Lagan Construction Group recently scooped a prestigious CEF award in recognition of their work on a major pipeline in North Belfast. "Gravity II – McVeigh's Well to Old Park Service Reservoir" was awarded the top prize in the Utilities Infrastructure category.
The winning project involved an extensive programme of improvements which were recently completed in North Belfast, as Sara Venning, CEO of NI Water explained:
"This £4 million package of work will improve the security of supply and will also have a positive effect on water quality in the North Belfast area. The scheme will also help to reduce the number of burst watermains across the wider area, particularly over the winter months.
"I would like to congratulate Lagan Construction Group, who have extensive experience of major water infrastructure projects throughout Northern Ireland, on winning this prestigious award."
Seamus Devlin Regional Director of Lagan Construction Group added:
"We at Lagan Construction Group are delighted to win this CEF award, which is a great opportunity to showcase the Gravity II project amongst the best of the construction industry in Northern Ireland and to celebrate the industry's achievements and highest standards of construction.
"The project was one of the highest profile trunk main rehabilitation projects undertaken by NI Water within an urban environment. The pipeline was laid through busy North Belfast residential areas, with minimal disruption and regular community engagement."
A packed Culloden Hotel hosted the prestigious ceremony which is now firmly established as the highlight of the construction calendar in Northern Ireland.
Pictured with the award at NI Water's pipe store at the Westland Road Head office are: (L-R) back row Graeme Irwin Lagan Construction, Martin Gillen NI Water, Sean McGlinchey Lagan Construction, and Bill Gowdy Director of Engineering Procurement- NI Water. Front – Sara Venning CEO of NI Water pictured with Seamus Devlin Regional Director of Lagan Construction Group.