Mountainview Wastewater Treatment Works scheme at Dromintee completed
26 October 2015 14:40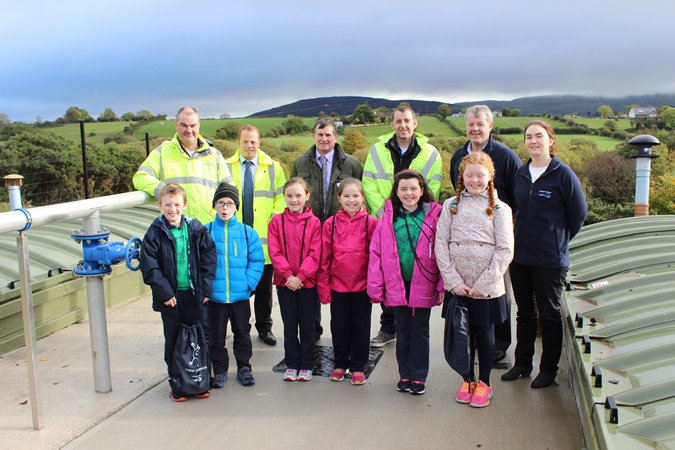 Work has been completed at Mountainview Wastewater Treatment Works (WwTW) and local primary 6 pupils from Dromintee Primary School came along to view the results! This scheme is part of an ongoing £1 million package being invested by NI Water in upgrading wastewater treatment works in rural County Armagh.
The £320,000 investment at Mountainview, Dromintee forms part of NI Water's Rural Wastewater Investment Programme, which has involved extensive refurbishment work across county Armagh, including the recently completed Killeen, Dorsey, Lisnadill and Drumilly WwTW.
Approximately £4 million has been invested overall across Northern Ireland in the latest phase of the Rural Wastewater Investment Programme, a specially tailored package of work which has been designed to upgrade rural wastewater treatment systems serving populations of up to 250 people.
Peter Ferguson NI Water's Project Manager said: "NI Water's Rural Wastewater Investment Programme was set up to deliver widespread refurbishment of many minor wastewater works that span the length and breadth of Northern Ireland. The current phase of the project is progressing well with the completion of Mountainview and many other sites in the County Armagh area.
"NI Water has designed and implemented bespoke state-of-the-art wastewater treatment systems to replace ageing filtration units and septic tanks, which over the years have become increasingly ineffective.
"This project will greatly improve wastewater services for our customers in the Armagh area and throughout Northern Ireland, including improved water quality in local rivers. The latest technology that has been used has already brought many environmental benefits, as well as facilitating future local development.
"The scale of the project has required extensive work in rural areas and often in private lands. We would like to take this opportunity to thank local people affected for their patience throughout this programme of work. I know the communities will enjoy the benefits of this work for many years to come."
Two teams of specialist local contractors are involved in the overall project: A joint venture of BSG Civil Engineering (Maghera) and Williams Industrial Services (Mallusk) - with technical support from McAdam Design in Belfast.
Photo caption (L-R) Gary Campbell NI Water, Robert Smith McAdam Design, Mr Terry O'Hanlon (Vice-Principal Dromintee Primary School) Christian Beattie, Peter Ferguson, and Catherine Watkins from NI Water pictured on site at Mountainview WwTW with Primary 6 pupils.