Work to start on £10.9million Watermains Investment for Belfast and Carrickfergus
10 December 2015 15:51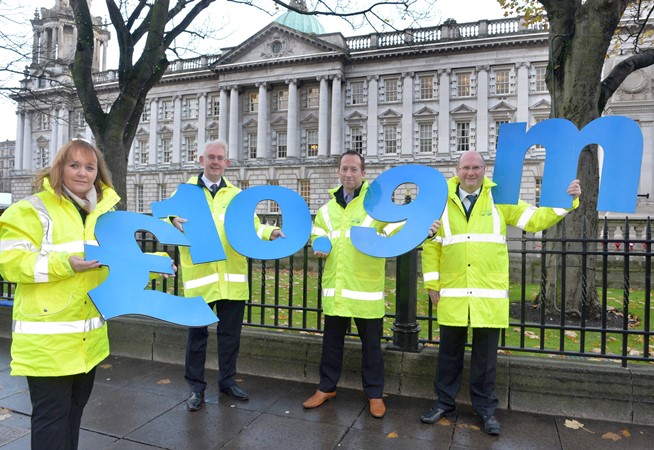 Regional Development Minister Michelle McIlveen has welcomed the start of a new £10.9 million package of work across Belfast and Carrickfergus to upgrade the water supply infrastructure.
This programme of work will involve the laying of approximately 61km of new water mains in the area and is part of NI Water's ongoing Water Mains Improvement Programme.
This new programme of work will get underway in early January 2016, and will be part of an overall capital investment by the Northern Ireland Executive of approximately £114million, which will be invested in laying approximately 905km of new water mains across Northern Ireland over the next 6 years.
Regional Development Minister Michelle McIlveen said: "This major water mains investment for the Belfast and Carrickfergus is good news for the local areas, as the upgraded water mains will also improve the quality, reliability and security of the local water supply across Northern Ireland, while reducing leakage and improving pressure in the area. It will also protect literally hundreds of jobs in the hard pressed construction sector"
Bill Gowdy, Director of Engineering Procurement at NI Water added: "The scale of the ongoing water mains project has required extensive work on local roads. However, where possible, we will use state of the art low-dig technology throughout this programme of work which will enable us to lay many of the mains without the need to open large trenches.
"I would like to thank householders, businesses and road users for their continued patience and support. The local communities will enjoy the benefits of this work for many years to come."
NI Water will, in co-operation with Transport NI, do everything possible to keep any disruption to a minimum. NI Water will also work with Translink to ensure that public transport services function with minimum disruption.
NI Water and their contractors Farrans Construction and Lagan Construction Group will carry out letter drops in affected areas to advise affected residents in advance of this work. Signage and traffic management will be publicised in advance. NI Water would like to thank the public in advance for their co-operation and patience throughout this essential improvement work.

(L-R) Regional Development Minister Michelle McIlveen, Paul Davison, Gavin McGinty and Maurice Crawford from NI Water's Water Mains Improvement team