Green Apple Award for Stoneyford Integrated Constructed Wetland
17 December 2015 11:45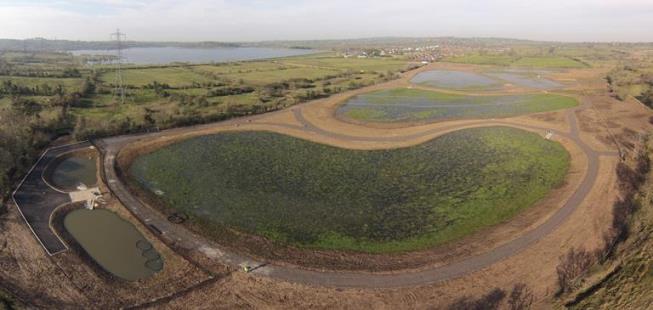 NI Water recently scooped a prestigious international "Green Apple" environmental Award in recognition of their work to construct an Integrated Construction Wetland (ICW) for wastewater treatment in Stoneyford, near Lisburn, County Antrim.
This award was a 1st prize, Gold Award for Carbon reduction for the Stoneyford Project, showing the advantages of an Integrated Constructed Wetland solution. It was recognised to have a positive contribution to the local community and an enhancement to the local ecosystem.
The Green Apple organisation is an international non-profit environmental group, encouraging the industry to highlight best practice around the world, sharing ideas and promoting sustainable development. The award ceremony took place at the Houses of Parliament, Westminster.
The Stoneyford site will be a flagship project for NI Water to produce an industry-leading example of how wastewater treatment can be integrated into and complement the local ecosystem.
The ICW method also has a proven track record with cost savings, low energy and low maintenance compared with traditional solutions. This environmentally-friendly solution is particularly suited to rural areas and will be built to accommodate the future wastewater needs of the village.
Sara Venning NI Water CEO said:
"We at NI Water are delighted to win this major environmental award, which is a great opportunity to showcase the Stoneyford project amongst the best environmental projects in the world.
"The existing wastewater treatment works in the village was nearing the end of its useful life and needed to be replaced, so NI Water invested approximately £1 million to develop this wetland, which is an important step towards the development of more environmentally - sustainable solutions throughout Northern Ireland.
"The ICW solution has been developed from natural concepts and has been used for many years throughout Europe and the Republic of Ireland."
The contractor for the Stoneyford project was Maghera-based BSG Civil Engineering, with Belfast-based White Young Green providing design and technical support.
Photo captions:
Aerial view of the Stoneyford Integrated Construction Wetland