Wetlands Day – the Natural Cleaner!
02 February 2016 11:51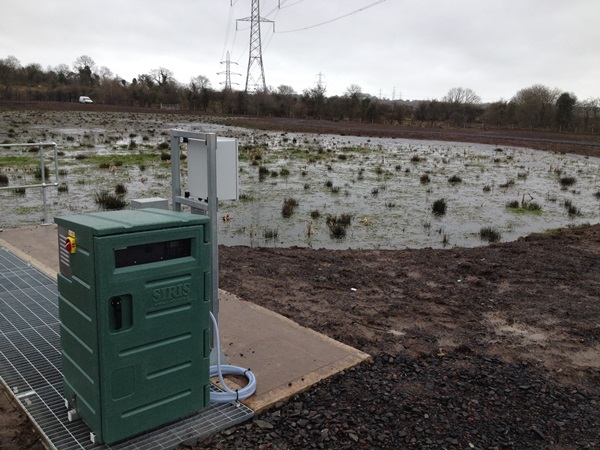 Tuesday 2 February is World Wetlands Day, a day when communities around the world reflect on our wetlands and marsh areas, and promote their sensible use and conservation.
The theme for 2016 is 'Wetlands for our future; sustainable livelihoods.' All too often, people do not realise the value of wetlands, treating them instead as dumps, even draining them to allow for development.
NI Water are marking this special day by celebrating the success of our first Integrated Construction Wetland facility at Stoneyford. In basic terms, a wetland the size of five football pitches helps clean the wastewater produced by this small County Antrim village over a period of roughly three months before it all passes safely into a nearby river to re-join the water cycle!
Approximately 60,000 reeds and plants, assisted by bacteria and ultraviolet light, carry out the actual cleaning, which is conducted according to the highest industry standards. A facility like this is a first for Northern Ireland, although it's common elsewhere in Europe and across the world. Others are planned over the coming years on the back of Stoneyford's success.
The site, which has been fully operational since last year, is a haven for birds and insects as it carries out its vital work, and it will also act as a resource to be used and enjoyed by the Stoneyford community for many years to come.
Jane Jackson, NI Water's Environmental Education Manager, says: ''Northern Ireland has over 80,000 hectares of wetland, much of which is accessible to the public for their enjoyment. World Wetlands Day is a tremendous opportunity to appreciate our wetlands and marshes, and to reflect not only on their beauty and their role in nature but also on their practical role, which can include cleaning wastewater!
''The Stoneyford site is a great example of a wetland that not only acts as a wildlife habitat, but also provides a vital, and completely natural, service. We are glad it has been well received by the local community, as everyone has a role to play in protecting and appreciating our wetland areas.
''Other local wetland areas are right in the heart of their communities, including the Bog Meadows and Lagan Meadows in Belfast, Kinnegar in Holywood , Moyola and Ballinahone near Magherafelt, and Glenarm and Waterfoot in County Antrim.
''We hope that communities everywhere will use the opportunity presented to them by World Wetlands Day on 2 February to appreciate our wetlands and work to preserve them as best we can.''
Ends
Media queries can be directed to the NI Water Press Office on 028 9035 4757 or via email on
press.office@niwater.com