Winter Wrapped Up – Almost!
26 February 2016 16:26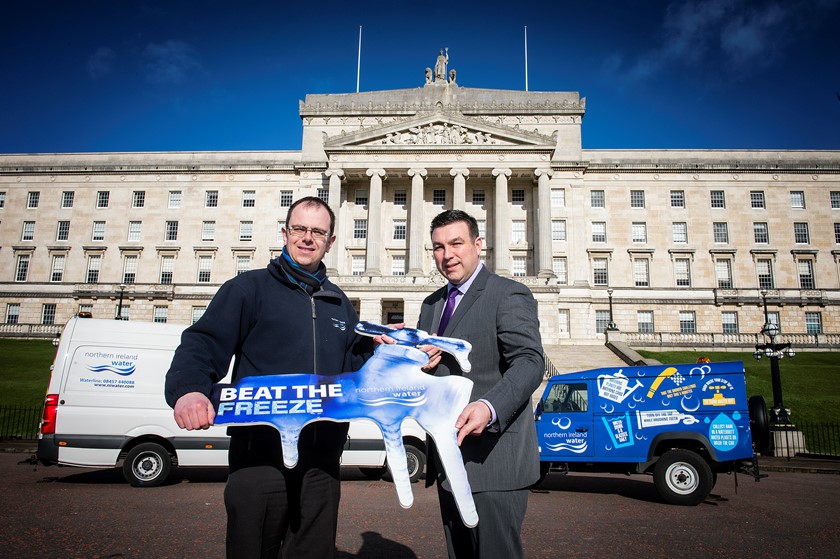 Spring is nearly here, but Winter isn't quite finished yet, and can still make its presence felt! In order to highlight the potential importance of the latest dip in temperatures, NI Water recently paid a visit to Parliament Buildings at Stormont to educate our political leaders on how they can continue to help us 'Beat the Freeze'.
Late March 2013 saw an unseasonal batch of snow, so you never know what might be round the corner in terms of the weather!
NI Water's Chief Executive, Sara Venning, comments:
"Although this winter has largely passed by without a severe dip in temperatures, it always pays to be prepared, and the recent colder weather is a good opportunity to remind customers of the potential for disruption.
''There are simple procedures the general public can carry out in order to 'Beat the Freeze'. These include knowing where your stop valve is and keeping the contact number of a registered plumber on hand to deal with any bursts on your property.
"The devastation caused by burst pipes cannot be underestimated. Not only can the water cause structural damage to a property, but the lasting damage in a home can be to personal items, including photographs and electrical equipment such as tablets, iPads and laptops, that may not be replaceable.
"On a wider scale, if you imagine the impact of thousands of litres of water pouring out of burst water pipes; any water distribution network would struggle to maintain continuity of supply in those circumstances. Insulating your pipework is an essential action to protect your water supply and that of your neighbours.
''Winter may be almost gone, but you never know when a cold spell could arrive – make sure you 'Beat the Freeze' no matter what the time of year.''
Visit NI Water's Youtube site for helpful videos on how to locate your stop valve and where in the house to check for lagging.
http://www.youtube.com/northernirelandwater