Essential Watermains Improvement Work Completed in Larne
11 March 2016 16:05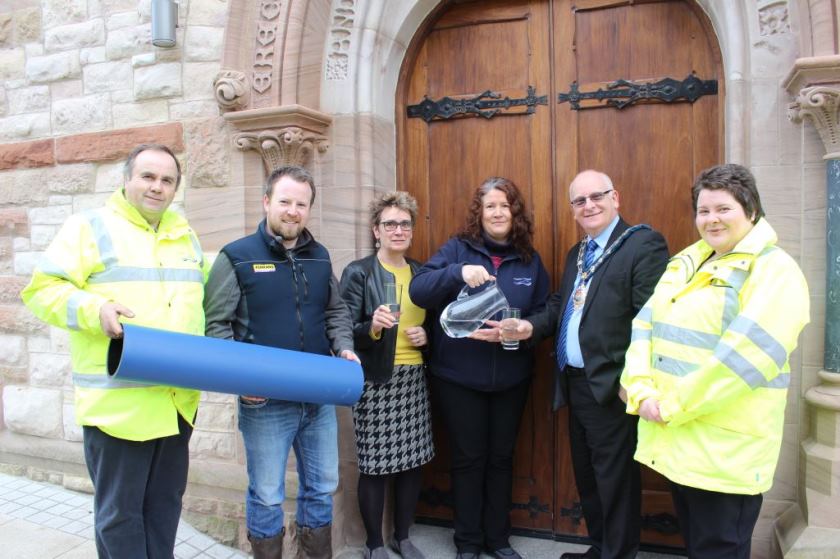 NI Water is pleased to announce that an essential £529,000 watermains improvement scheme to lay approximately 1.5km of new watermains was recently completed in Larne. The existing infrastructure was aging, and it was essential that NI Water upgraded the necessary watermains to allow Mid and East Antrim council to complete their public realm scheme throughout the town centre.
Tracey Mitchell, NI Water Project Manager said:
"This major investment is good news, as the upgraded water mains will improve the quality, reliability and security of the local water supply, while reducing leakage and improving pressure in the area. There will also be less bursts in the area and the improvements will facilitate future growth and development.
"Night-time working was employed where possible to reduce disruption in the Larne town centre area, and NI Water and our contractor Farrans Construction would like to thank the local community for their patience throughout this essential scheme"
Mid and East Antrim Borough Mayor, Councillor Billy Ashe said:
"I am delighted to see that this essential improvement project has been completed, which will improve water services for people in the Larne area. This is an excellent example of the council co-ordinating with other utilities and agencies to improve our infrastructure and services to customers.
"Work is continuing on the council's public realm scheme throughout Larne Town Centre to improve the quality of the public realm by creating a distinctive character and positive identity, ensuring that all street lighting and furniture is fit for purpose and promoting planting and floral displays to generate seasonal interest.
"Although the work means some short-term disruption, it will bring many long-term benefits for the people of Larne."
For further information on Mid and East Antrim Council's Public Realm scheme, log on to: http://www.midandeastantrim.gov.uk/business/public-realm/larne-town-centre-public-realm-scheme

Ends
Further information
All media enquiries to
press.office@niwater.com
or phone 028 90354757