NI Water 'Flushed' with Success at Balmoral Show!
13 May 2016 11:20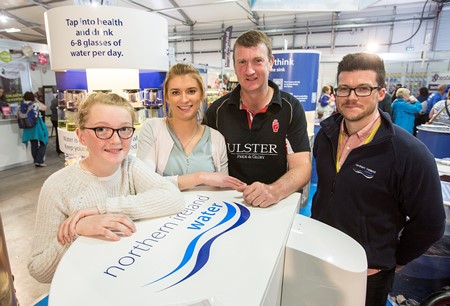 The Balmoral Show is a highlight of the year for many of us in Northern Ireland, and also for NI Water! As the show continues to get bigger, so too did the crowds flowing to the NI Water stand at this year's event at Balmoral Park near Lisburn, where they learnt about Water Efficiency, the Dirty Dozen campaign, Water for Health, FOG (fat, oils and grease) and pesticides, amongst much more.
Shower timers to encourage people to spend less time in the shower were available, as were water bottles to encourage the drinking of the recommended 6-8 glasses per day! While encouraging people to have fun at our stand, some serious messages were also given in relation to damage caused to the environment and beaches, and protecting our sewers; this was displayed by a model of a blocked toilet showing the consequences of flushing inappropriate items such as baby wipes and sanitary items.
Information on pesticides and their impact on the water supply was also displayed.
Christine McAllister of NI Water said: ''NI Water was delighted to exhibit once again at this year's Balmoral Show. We welcome the opportunity to get out and about to promote our positive key messages, such as Water Efficiency and the Dirty Dozen, and are pleased to be able to do so at one of the biggest events in Northern Ireland. We look forward to returning to the Balmoral Show again next year.''
Ends
All media enquiries to NI Water Press Office on 028 9035 4757 or email
press.office@niwater.com