NI Water and NI Fire & Rescue Service seal the deal
23 May 2016 15:59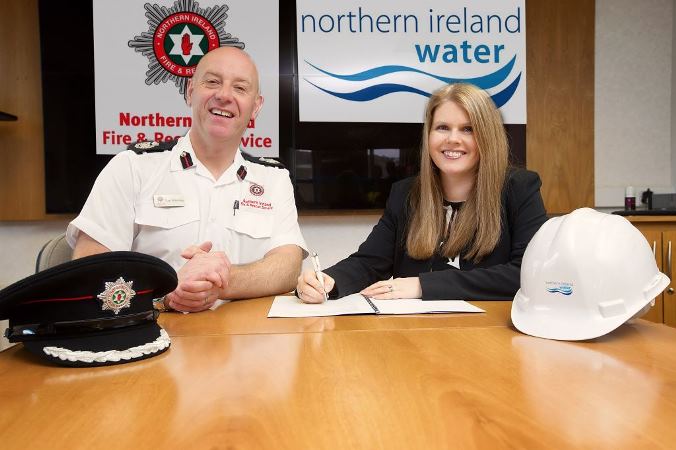 NI Water and Northern Ireland Fire & Rescue Service (NIFRS) have signed a new co-operation agreement to enhance joint operational response and procedures in the event of an emergency incident at any NI Water site across Northern Ireland.
Sara Venning, CEO of NI Water:
"NI Water sites all provide vital water and wastewater services to the community. If anything goes wrong it can have a knock on impact on the services we provide to our customers, inconvenience to residents and disruption to normal everyday life.
"We have worked very closely with the NIFRS team on this agreement and are very thankful they have invested the time and resources necessary to set out the areas for cooperation. We are confident that if and when we need their assistance, they have all the necessary information they require to provide the best response possible. The fastest, most efficient response from our colleagues in NIFRS, assisted by NI Water staff, will ensure the safety of everyone impacted by the incident and enables us to get our sites back up and running as quickly as possible."
Alan Walmsley, Assistant Chief Fire Officer, Northern Ireland Fire & Rescue Service said:
"We already work very closely with our colleagues in NI Water across a range of emergency incidents. This agreement formalises a framework for co-operation for dealing with an emergency incident on any of their sites. It clarifies roles and responsibilities, information exchange, emergency planning, and training as well as interagency working at the scene. This will undoubtedly enhance our operational response to incidents on any of their premises.
ENDS.
All media enquiries to NI Water press office on
press.office@niwater.com
or call 028 9035 4710.