Get Ready! NI Water is Expanding its Digital Services
23 February 2023 14:22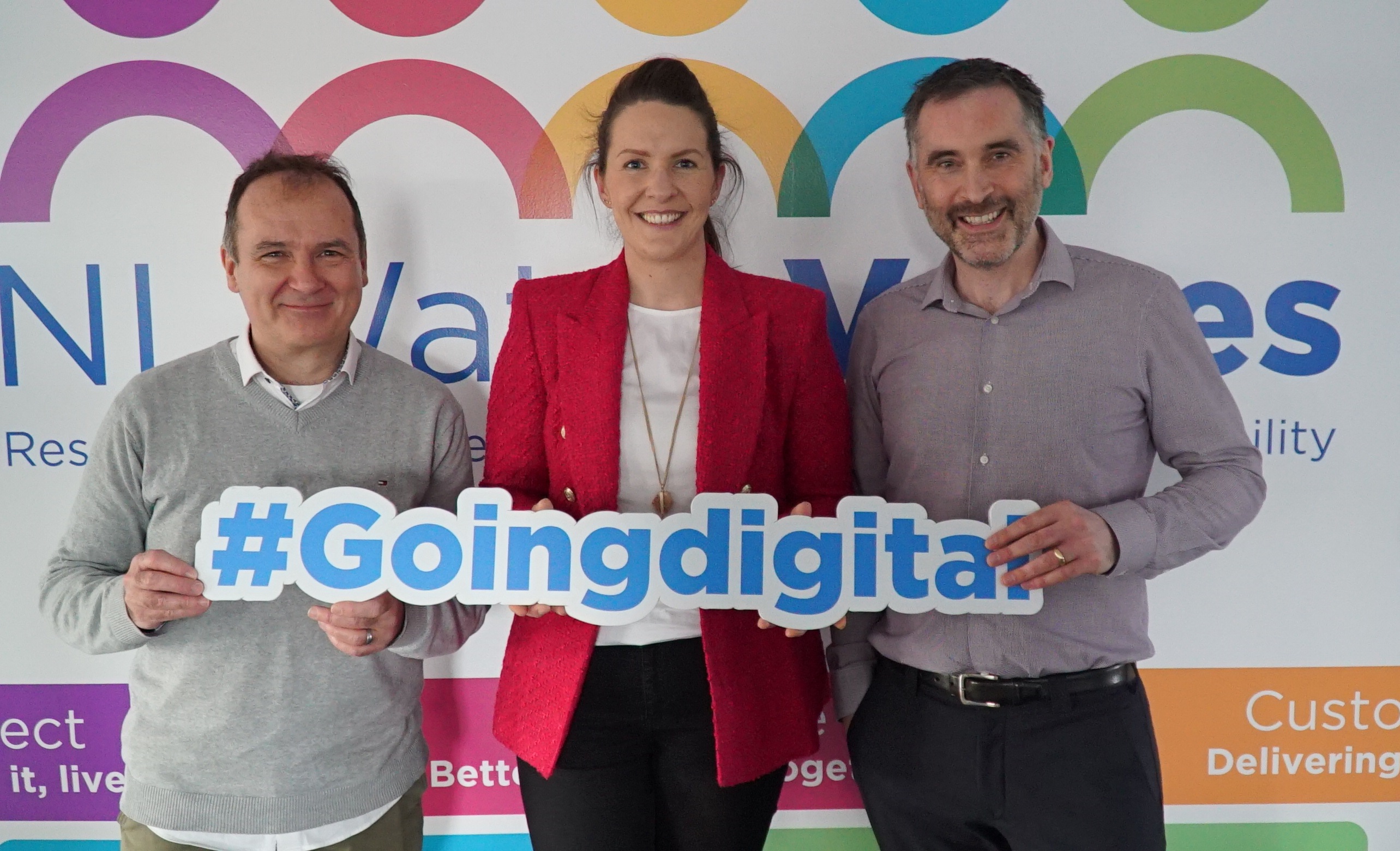 Caption: Pictured L-R Paddy Cashman, Project Manager, Business Improvement, NI Water; Angela Jamison, Project Manager, Business Improvement, NI Water & Mark McNamee, Customer Experience Programme Manager, NI Water.
NI Water is expanding its Self Service Portal to enhance the online customer experience it provides. This forms part of NI Water's digital transformation journey to develop a user-friendly platform that will enable both domestic and non-domestic customers to access a wide range of NI Water services.
Des Nevin, Director of Customer and Operations at NI Water said, "In today's modern digital world, we recognise that we can further improve and adapt the customer journey by offering a multi-channel experience. We've engaged with our customers through a series of workshops, listened to their feedback and tailored our processes to develop an enhanced Digital Portal.
"Once the Portal is live, customers will be able to apply online for:
New Connections for water and wastewater to our network
Sewer Adoptions for sites (Article 161)
Businesses that need to discharge trade effluent or a customer with an existing trade effluent consent.
"On 28th February the Self Service Portal will be unavailable from 9.00am until 3.00pm. Customers will then be able to access the Portal, at which point paper applications will no longer be available for those three areas. This is a major step forward in helping to reduce waste and enable us to play our part in helping to protect the environment. Our developers will also see a change in payment requirements which will be highlighted as they work through the online application process."
In the future, the Portal will evolve to provide easier and more convenient ways to apply online, track progress, manage accounts and pay bills.
More information on the Self Service Portal coming soon for New Connections, Sewer Adoptions for sites (Article 161) and Trade Effluent. Visit niwater.com for further information.
ENDs
For further information, please email press.office@niwater.com
NOTES TO EDITORS
Customers will be supported through the online process by helpful prompts and guidance. In addition, customers can communicate via portal notifications with assessors working on their application.
One area where customers may experience some changes will be around the responsibility for making payments. The new system improves how we identify who our customer is and ensures that it is the customer who pays for the service and receives appropriate VAT invoices. This may mean that a Developer will be our customer and therefore will be required to make payments, rather than an Agent who has been acting on the Developer's behalf.
3. NI Water will deliver digital functionality for the two highest volume processes within Developer Services (New Connections and Sewer Adoptions (Article 161). A number of lower volume processes will remain paper-based until they are added to the Self Service portal. For example, paper applications are still required for:
Build Over Process – A236
Build Over Record Request
Realignment /Diversion of a Public Sewer - A247
Realignment /Diversion of a Public Watermain – A247
Impact Assessments
Lead Pipe Replacement – A079 LPR
Pre-Development Enquiry
Record Requests
Separation of Supply – A079 SOS
Standpipe Licencing
Sewer Requisition/Extension – A154
Watermain Requisition/Extension – A076