Further milestones reached in construction of new pumping station at Brompton Road
20 April 2021 17:20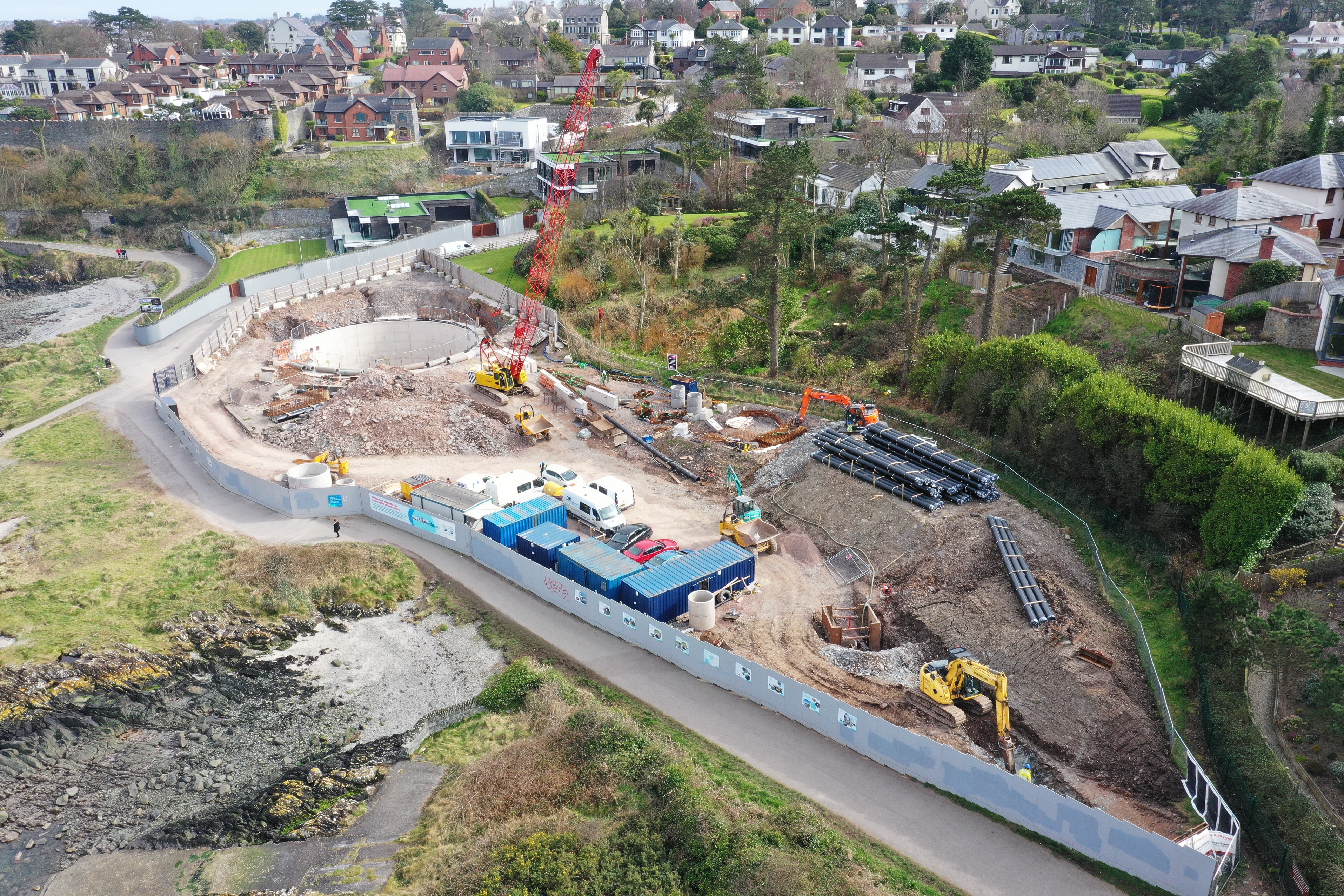 NI Water and our contractor BSG Civil Engineering have reached further significant milestones in the construction of the new wastewater pumping station at Brompton Road. The tank has now been sunk to the final position, and a huge concrete pour has been completed to form the base of the new 21m diameter tank.
This significant concrete pour was completed recently, when work commenced at 5am with 67 lorries bringing over 500m3 of concrete to site, which was poured over a 12 hour period.
Catherine Watkins, NI Water's Project Manager said: "The sinking of the tank and completion of the concrete base represents a significant step forward in the advancement of this challenging project"
Infrastructure Minister Nichola Mallon said: "I am pleased to see this project reach another key milestone. Once complete this £4 million investment at Brompton Road and Stricklands Glen will significantly reduce the risk of out-of-sewer flooding and environmental pollution during periods of heavy rainfall and ultimately will help improve bathing water quality along the North Down coast. This is good news for people in the area as well as the surrounding environment."
Pipelaying works on Brompton Road are now underway, and will be carried out under the ongoing road closure. This will involve upgrading the existing combined sewer and installing a new pumping main. A short section of pipeline will also be laid along Downshire Road (between Brompton Road and Maxwell Road) around the end of May. We anticipate these works will take approximately 10 weeks to complete.
Our contractor will install as much of the new sewer and pumping main as possible using underground trenchless techniques, designed to minimise disruption to residents and reduce environmental impact.
As part of the upgrade to the sewer network in the area, another pumping main is due to be laid along the coastal path between Brompton Road and Stricklands Glen Wastewater Pumping Stations. NI Water has been liaising closely with Ards & North Down Borough Council and other statutory bodies and hopes to schedule this work to coincide with path widening works planned by the council.
Further environmental studies are in progress, and once these have been completed and approved, NI Water will be in a position to provide an update on the timing of these works. A recent poll undertaken by NI Water, showed that the majority of respondents favoured the option of a full closure of the coastal path for a shorter number of weeks to facilitate these works.
NI Water along with our contractor BSG Civil Engineering appreciates the ongoing patience of residents and the public as we deliver this essential programme of work.
Take a closer look at a key milestone reached in the construction of Brompton Wastewater Pumping Station in Bangor:
Ends
A few key points to remember:
If we need to visit your home during this time, to keep you and us safe, please make our staff aware if you are self-isolating. We will also ask you to respect social distancing for our colleagues if they are on your property.
Beware of Bogus Callers – if you are concerned about the identity of someone at your door, you can call the PSNI non-emergency number '101' where you will have the option of a 'Quickcheck' to confirm the caller is from the utility they say they are.
Do not let children go near work sites or equipment, this can be extremely dangerous.
For further advice log on to https://www.niwater.com/covid19/
Information on water supply issues affecting your property are also available 24/7 simply by logging onto http://www.niwater.com/current-service-updates/
ENDS.
For further information, please contact NI Water's Press Office on 02890 354710 or email press.office@niwater.com