WaterAid Supporters Take on Mourne Wall Challenge!
19 May 2023 16:55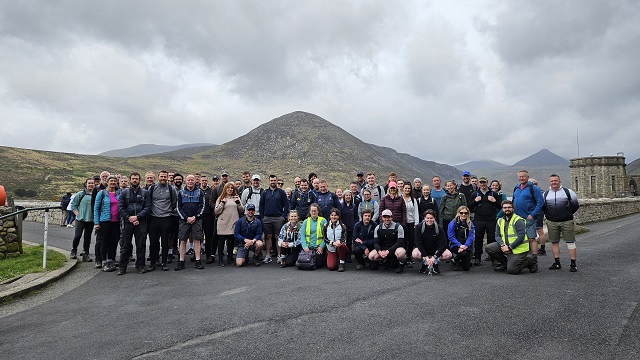 The local WaterAid NI Committee arranged a charity Mourne Wall Walk, which kicked off at Silent Valley on Friday 19 May. The walk, which took in a section of the historic Mourne Wall raised over £1,000 for the charity and the local committee would like to extend a huge thank you to RPS for coordinating the walk and to all the fantastic WaterAid supporters who took part for their generosity!
NI Water and our partner organisations are proud to support WaterAid's vision of a world where everyone, everywhere has access to safe water, decent sanitation and good hygiene. Funds raised from today's walk will go to the "Deliver Life" project, which aims to improve access to clean water, decent toilets and good hygiene for mothers, girls and children in the Southern Region of Malawi.
2022 marked one hundred years since the construction of the Mourne Wall and 2023 marks 100 years since the first sod cutting of the Silent Valley dam construction works.
NI Water is offering the public the opportunity to input into a community engagement project and share their opinions on the future of Silent Valley Mountain Park. Have your say at: https://www.niwater.com/silent-valley/
If you would like to get involved in local WaterAid fundraising events or wish to nominate the charity for your own corporate event, please email SNI@wateraid.org for more information.