Burst Pipes are 'Snow Joke' – Time to 'Beat the Freeze'
14 January 2016 15:53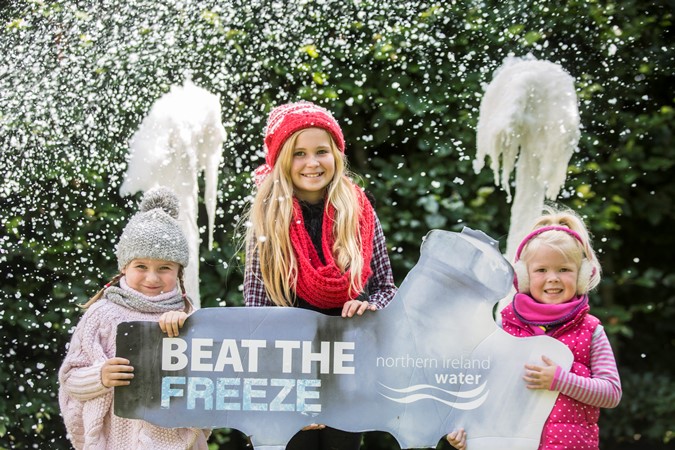 NI Water is reminding property owners across Northern Ireland to 'Beat the Freeze' and protect internal water pipes and fittings in order to prevent bursts.
As winter weather sets in after an extended mild spell, now is the time to think about protecting your pipes.
Although winters in the last few years have been relatively mild, there is no guarantee that truly severe weather conditions will not return, and if you are unprepared, that could lead to the misery of burst pipes and flooding.
There are simple procedures the general public can carry out in order to 'Beat the Freeze'. These include knowing where your stop-valve is and keeping the contact number of a registered plumber on hand to deal with any bursts on your property.
The devastation caused by burst pipes cannot be underestimated. Not only can the water cause structural damage to a property, but the lasting damage in a home can be to personal items, including photographs and electrical equipment such as tablets, iPads and laptops, that may be irreplaceable.
On a wider scale, if you imagine the impact of thousands of litres of water pouring out of burst water pipes, any water distribution network would struggle to maintain continuity of supply in those circumstances. Insulating your pipework is an essential action to protect your water supply and that of your neighbours.
NI Water's top tips for avoiding frozen pipes include:
Insulate water tanks and pipes in unheated areas like lofts, garages and outbuildings;
Fix dripping taps – a gentle trickle of water can freeze and completely block the pipe;
Keep your boiler well serviced to ensure your house is heated;
If you are away from home during the winter period, open the trap door into the roof space to allow some of the warm air to circulate;
If you are away from home, leave a key with someone who can check the house regularly;
Know where your stop valve is in the case of an emergency - it is normally situated under the kitchen sink;
DO NOT run your tap to avoid a frozen pipe; a running tap can waste up to 3,000 gallons of water per day;
Write down the contact details of a registered plumber in case a pipe does burst.
More information is available here