A Rush Solution without Pollution...
High levels of the herbicide MCPA have been detected in raw water in the Eden Burn area near Ballymoney in Co. Antrim. This sub-catchment flows into the River Bann, which in turn supplies Ballinrees Water Treatment Works near Coleraine.
In order to reduce these MCPA levels, NI Water are running a FREE weed wiping project working with farmers and the local community to protect this valuable water source. This service will be delivered to farmers and landowners within the Eden Burn sub-catchment area over a four-year period between April 1st 2019 and 31st October 2022.
What's the problem?
The water abstracted from the River Bann is treated and used to supply quality drinking water to NI Water's customers in the surrounding area. Water quality in the Bann sub-catchments is affected by activities on land in the surrounding catchment area. Routine monitoring of water in the reservoir has shown high levels of grassland pesticides such as MCPA, which could be from agricultural activity such as controlling rush infestation using a boom sprayer applicator. MCPA is long-lived in the water environment and is expensive for NI Water to remove during treatment.

Be assured that the final drinking water quality at Ballinrees is of a high standard and meets all the required water quality standards. However extra treatment is required, as a result of the raw water quality supplying the works, which increases cost in order to maintain the necessary high quality drinking water standards for customers in the area.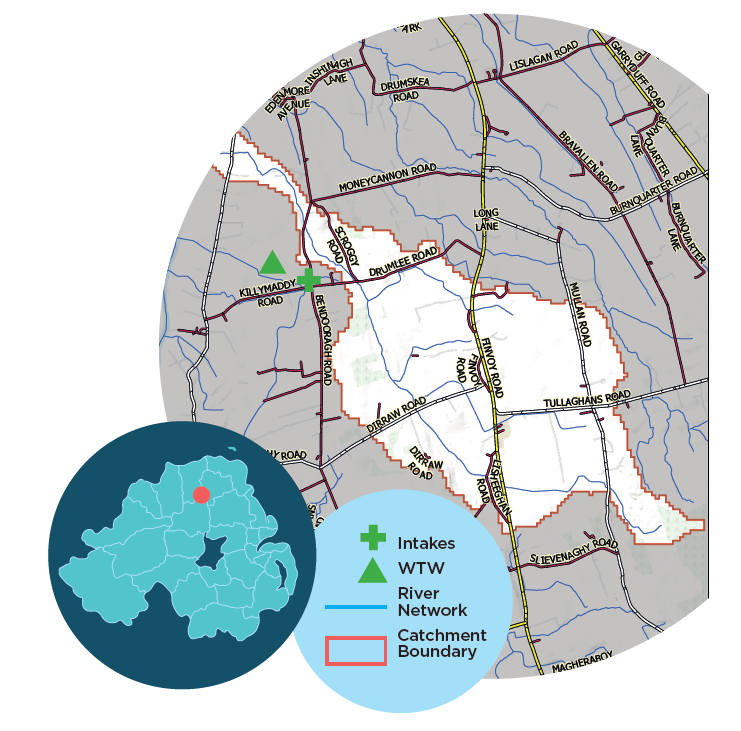 What's the Solution?
NI Water is working with The Water Catchment Partnership and the farming industry as part of an innovative campaign to help reduce levels of MCPA in the Eden Burn sub-catchment area. We are offering a free weed-wiping service using Glyphosate as an alternative to spraying MCPA, to demonstrate an alternative effective rush control method which causes less pollution. The overall aim is to show that pesticide levels can be reduced in the reservoir without the need for more expensive water treatment processes.
Previous weed-wiping projects have clearly illustrated that trust and working together in partnership delivers for all and we are confident this success will continue with the farmers in the Ballymoney area.
Why use Weed-Wipers?
Weed-wipers are only licensed for use with glyphosate, a chemical that has potentially less impact on water quality as it can break down quicker at around 3-7 days compared to MCPA, which breaks down in 15-25 days.
Greenmount CAFRE Rush Control Technology Project have held demonstrations between 2014-2019 where plots of rushes were controlled using a number of different methods:
­Mechanical cutting
Weed-wiping with glyphosate
Cutting and weed-wiping the regrowth with glyphosate
Boom spraying with MCPA
Liming
This demonstrated that the area cut and later weed-wiped with glyphosate showed the most effective rush control with minimal water pollution. This method uses glyphosate, which is approved for use in a weed-wiper. The average percentage of rush reduced from 81 per cent in 2014 to 20 per cent in 2015.
The Water Catchment Partnership
The Water Catchment Partnership was established in 2013 to help address significant water quality issues in Northern Ireland. Other partners include UFU, NIEA, DAERA, CAFRE and the Voluntary Initiative.
Their aim is to proactively work together to promote and raise awareness of best practice when using pesticides in the garden or on the farm, through a voluntary approach to improve water quality. Pesticides include herbicides, weed killers, fungicides and insecticides.
The UFU encourages those who live and farm in the Eden catchment to learn more about the benefits for all by participating and supporting this initiative. UFU Deputy President Victor Chestnutt is local to the area and says, "The project has been very successful elsewhere in Northern Ireland and has helped to improve water quality. It is a testament to the farmers in the area who embraced this technology and to NI Water, NIEA, DAERA, CAFRE and the Voluntary Initiative for using a collaborative approach rather than regulations and penalties. It is a great example of what can be achieved when we work together constructively."
You can get further information by emailing weedwiping[AT]niwater[DOT]com or by contacting our Catchment Liaison Officer Rebecca Allen on 07772225226.
The Application Form for the project can be downloaded HERE or can be mailed out to you if you prefer. Please arrange this by calling the Catchment Liaison Officer on the number above.